Your normal weekly guide is below — and applications for the Coaching for Leader Academy are now open! I'm review applications on a rolling basis between now and when they close on Monday, January 23rd — don't delay! Apply now (and get access to two bonus thank yous).
Beth Walker, who attended today's live webinar, posted this on LinkedIn:
Clear your calendar and sign up for this free webinar! My team and I just sat down together to listen, and we came away with lots of great action items for today, this week, and this year!
Thanks Beth. Seats are still available on this Thursday and Saturday for: When Expert Leaders Act, Here's What They Do. Claim your seat here.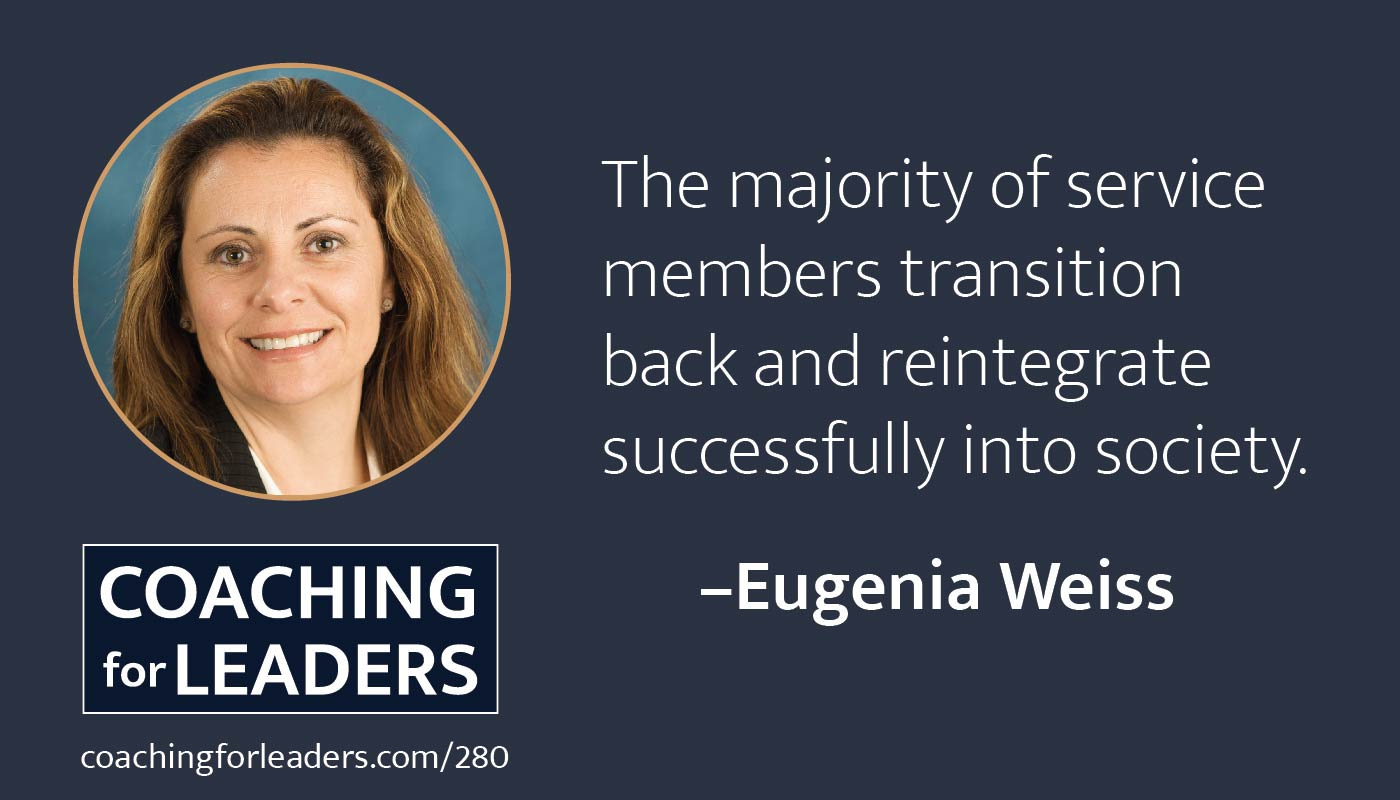 Monday's Episode
280: How to Support Veterans in Your Workplace: I welcomed Eugenia Weiss to the show to teach us how to support veterans at work. She is the co-editor of the book The Civilian Lives of U.S. Veterans: Issues and Identities* and Supporting Veterans in Higher Education: A Primer for Administrators, Faculty, and, Advisors*.
Key Points
Military and civilian cultures are very separate, and sometimes it's difficult to transition back into civilian life.
Most veterans with combat experience won't have PTSD, it's about 15%-30% that do. The effects of PTSD vary from person to person.
In the past, service members typically had several weeks of transport time between combat roles and home, now it's only a couple of days. This doesn't allow them much time to process their experiences.
Don't be afraid to engage with veterans and talk about their experiences, just do it with care and concern. Most veterans do want to talk about their experiences.
Volunteering for a veteran's group can be very rewarding both for you and for the veterans you're helping.
Organizations Supporting Veterans
Quick Reads
Leaders Are More Powerful When They're Humble, New Research Shows: This is the line that caught my attention: "Humble leaders have less employee turnover, higher employee satisfaction, and they improve the company's overall performance."
Why Employers Are Rushing to Offer Unlimited Vacation: Not sure I agree with the word "rushing" in the title, but like this idea and hearing about some of the early experiments.
Obama's Secret to Surviving the White House Years: Books: If you're a bookworm too, you'll find this an interesting read.
In-Depth Reads
In Praise of the Incomplete Leader: I can't help but notice how the tone of this article lines up so well with the advice from expert guests on the podcast. One of the co-authors is Peter Senge, author of The Fifth Discipline*, the leading book on organizational learning.
Audio
Inhabiting Executive Presence: Tom Henschel aired this episode last week on The Look & Sound of Leadership podcast. I like the three steps he identifies for leaders. It's a great complement to the conversation I had with Muriel Maignan Wilkins late last year.
Just For Fun
Africa (Toto cover): Jeff Hall, the brother of Greg Hall, one of our Academy members — is featured in this great cover of a classic song. I may have watched it a few times…