Power has long been a dirty word for many of us. It's been my experience that even in leadership courses, discussions about "power" are approached cautiously, less anyone get the idea that power can be a good thing.
That's why when I saw this article by Dacher Kelter awhile back, I knew it was time for a new perspective. In this week's episode, we discussed how to use power for good and why it's not that bad a word, after all.
This Week's Show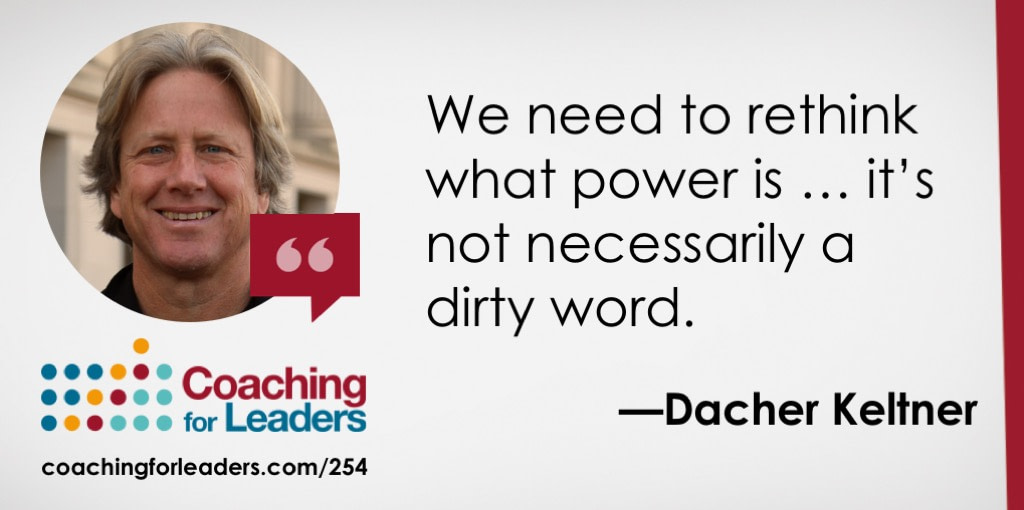 254: Use Power for Good and Not Evil
Dacher Keltner is the author of the new book, The Power Paradox: How We Gain and Lose Influence*. He's also the founding director of the Greater Good Science Center and a professor of psychology at Berkeley.
Find his key thoughts and the full audio posted on the Coaching for Leaders website.
Quick Reads
So Busy Doing My Job, I Can't Get Any Work Done: I've become more aware recently of the distinction between talking about work and actually doing work. Seth Godin challenges us on this distinction in just a few sentences.
Are Women Better Decision Makers?: Like a lot of things, the research isn't conclusive, but it's fascinating what happens as the stress of deadlines loom. The author, Therese Huston, is my guest on next week's episode.
Longer Reads
Managing the High-Intensity Workplace: I found this article very illuminating on the three different ways employees respond to high-intensity cultures — and what leaders can do to create better quality of life and work.
Audio
Conquering Fear: Many years ago, I read a really helpful book called Feel the Fear and Do It Anyway*. Turns out that Tom Henschel read it too — and he just aired this excellent, 16-minute podcast on how to conquer fear.
Video
Five Essential Questions to ask Yourself: A lot of graduation speeches are forgettable, but this 6-minute snippet delivered by James Ryan at Harvard zeroed in on five, helpful questions.
Related note: Several of Ryan's questions reminded me of the excellent coaching questions articulated by Michael Bungay Stanier on episode 237.
Dan Pink: My 5 Favorite TED Talks on Work: Past podcast guest and popular author Dan Pink put together his five favorite TED talks on work. If you're looking for better ways to work, this list is a great start.
Just For Fun
The Virtues of Pokemon GO: Yes, I downloaded Pokemon GO and our kids and I have been having fun on evening walks catching things that don't actually exist. So, when I saw this post circulated online, it made me smile.