I've had many past reminders that life isn't supposed to be easy. Whenever I start feeling like I've got it all together, life has a way of slapping me upside the head and saying, "Nope. Got a bunch still to learn there, pal."
The correlation seems so strong that I occasionally find myself suspicious when things seem to be going really well. In this guide, why leadership wasn't supposed to be easy.
Oh, and if leadership isn't seeming easy to you either, welcome to the club. Applications are open now through April 1st to join with other leaders who are enthusiastic about supporting each other through practical action.
This Week's Show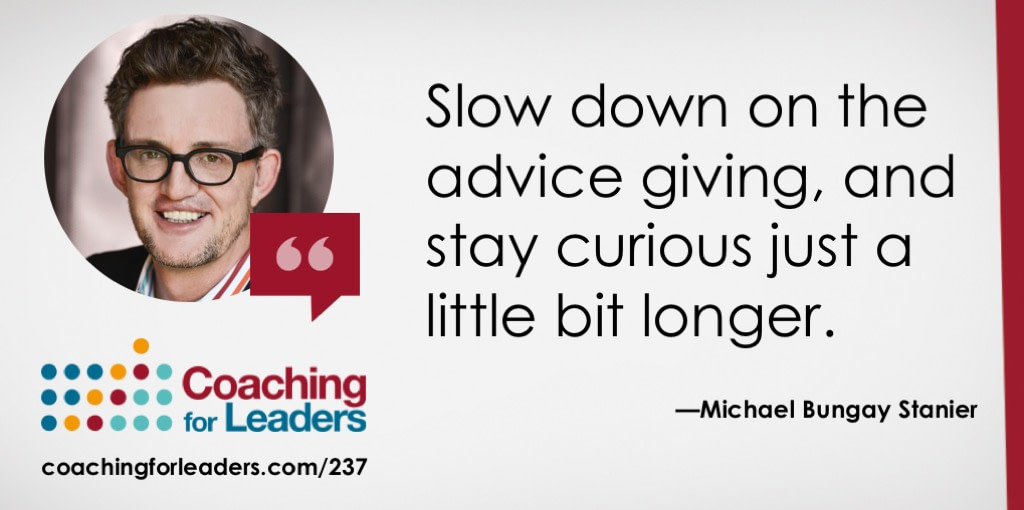 237: These Coaching Questions Get Results
Michael Bungay Stanier joined me this week to discuss his new book, The Coaching Habit: Say Less, Ask More & Change the Way You Lead Forever*. He recommends seven questions in the book, and we discussed several in our conversation.
If you missed it, Michael's advice is masterful for any leader wanting to coach more effectively. You can answer his, "What was most useful for you?" question and find the show notes on the Coaching for Leaders website.
Articles
To Overcome the Fear of Failure, Fear This Instead: The money line in this article: "Ultimately, what we regret is not failure, but the failure to act." The author, Adam Grant, has delt with a lot of his own fear too (and he talks about it on this coming week's podcast).
What to Say When You Talk About Yourself: You've heard the questions, "Tell us about yourself," and, "What do you do?" many times. Nine perspectives on how to respond, including some wisdom from my dad.
Creativity Is Not An Accident: This article breaks down the myth that creativity is generated by accident. Yet more evidence to support my general worldview that most "overnight successes" take about a decade.
Why Creative People Are Rarely Seen as Leaders: Speaking of creativity, apparently it doesn't always mix well with leadership. Past guest Susan Cain points out that espousing a desire for creative leaders and actually wanting creative leaders are two different things.
Video
I've Been to the Mountaintop: So many of us know and love Martin Luther King's "I Have a Dream" speech. Yet, I've always found the end of this speech both powerful and (sadly) prophetic. It captures the anguish of leadership, while still casting great vision. It also happened to be his last (24 hours later, he was dead).
From My Desk
8 Ways To Influence Without Authority: Good luck managing by decree these days. I posted this on LinkedIn today.
Can I Just Be in Charge?: Luke's first attempt at management.