How can I start coaching my team regularly? What expectations should I set for consistent communication? Exactly what are you supposed to do during a one-on-one meeting?
Those are a just a few of the questions I've heard from our listening community in the past few months — and why I jumped at the opportunity to chat with Zvi Band when I heard that Contactually had established a good system for this.
This Week's Show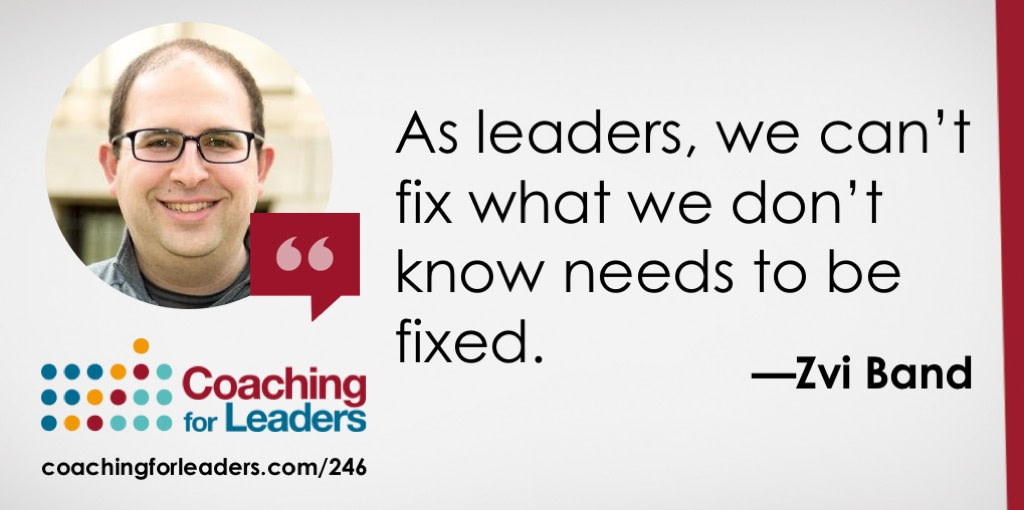 246: The Way to Conduct One-On-Ones
Zvi Band from Contactually shares how his organization conducts one-on-ones and how their strategy leads to results. In this week's episode, he talks about some of the struggles they've had, how they frame one-on-one meetings today, and the mindset that managers use when meeting with employees.
The show notes are posted on the Coaching for Leaders website as well as a number of articles from Zvi on employee interactions. For those also looking for a great customer relationship management system for themselves or their organization, Contactually is worth a serious look.
Quick Reads
Calling Your Finding: I talk to people all the time who are convinced that they'll make a greater impact somewhere else than their current job/role/organization. For some, I have no doubt it's true. For most, I often start with a message like this.
Polite Ways to Decline a Meeting Invitation: If attending that meeting will waste the organization's time (and yours) here's a few tactics from Harvard Business Review that may help.
The Most Effective Leaders Clash With Their Company's Culture: Research that supports the old adage that if your boss and you agree on everything, one of you is probably unnecessary.
This 54-Year-Old Custodian Just Graduated From the College He Cleaned at Night: Major career challenges can either be the end of the road or the beginning. Here's your inspiration to seek new beginnings.
Audio
CFL143: Accepting Feedback With Sheila Heen of Difficult Conversations: I seem to be having lots more dialogue than normal with clients about how to solicit feedback. I often recommend this past episode and Sheila's excellent question under point #5 in these notes.
Video
Callibran: One of our Mastermind members recently passed along this YouTube channel. There's a bunch of intriguing visual book reviews of some of the best reads for leaders. A great way to decide what you want to read next.
From My Desk
The Difference Between Manipulation and Leadership: What I've discovered about this important distinction.
Just For Fun
20 Comics Show The Life Of An Introvert: My fellow introverts may appreciate these. Bonni and I can both relate to #15.