I was a bit stunned the first time a prospective client did this.
We were being considered for a training project, but the company didn't share any goals. They said pretty much any topic would do, as long as it got scheduled this quarter.
We spent several minutes asking questions about their strategy and goals, only to get confusing responses. After several polite attempts to discover exactly how we could help their bottom-line, we ended up handing them a menu of topics (since that's what they asked for).
They picked a topic that "sounded good." We conducted the training to rave reviews from their employees.
And that was it. No follow-up on results. No obvious concern if employees implemented the skills. No apparent strategy for why training has been done at all.
(Note: I don't recommend this approach for your company's leadership development.)
I do recommend that you keep reading, cause in this guide, it's all about results.
Return That Investment
Mark Allen knows a thing or two about training. He's got a Ph.D. in education, a career consulting to companies on training, and two books about corporate universities* behind him.
In his third book that came out last year*, he said:
If you're going to treat training and development as an investment, then you must be able to demonstrate a return on that investment. That means that every program should be designed to deliver a specific business result and should be held accountable for achieving that result.
That didn't happen with the client I mentioned earlier and it often doesn't happen in many organizations. Leadership development is done for its own sake, rather than being tied to clear, organizational outcomes.
When Mark appeared on the show last year, we discussed why a focus on development without a connection to results is a bad idea and how to do better.
The Critical 21%
No company on the planet collects more data on all of us than Google. And, as it turns out, they collect a heck of a lot of data on themselves too.
In 2009, Google launched Project Oxygen, a massive, internal research project to determine what makes a great manager at Google. They poured through thousands of performance reviews, reports, surveys, and interviews.
The New York Times reports that Google's VP of People Operations reacted to the final results by asking, "That's it?"
Turns out only one of the eight rules their findings identified has a focus on technical skills. The rest of them articulate how to take care of people so they can produce the best results.
Mmm Mmm Good Results
Doug Conant is the former CEO of Campbell's Soup. He's gained lots of attention for his kind nature with people, but also for tuning around a struggling company to become a top performer in the Fortune 500.
When I interviewed him last year, his advice was simple:
Be tough-minded on standards and tenderhearted with people.
He also said two things to new leaders:
First, most of us already know how to provide great moments (he calls them TouchPoints) that make a difference in the lives and careers of others. Simply recall when someone did it for you and use that as your starting point to do for others.
Second? Approach the world with the intention of, "How can I find an opportunity to help?"
If you're not convinced that nice guys/gals produce results, listening to Doug Conant's story may change your mind.
To Goal or Not to Goal
A couple of times a year, I teach a masters-level class at Vanguard University. One of the projects the professionals in the program must complete is to design a training program for their organization.
They generally do pretty good with the project, minus one thing:
The intended result.
I've seen people put together beautiful content, but then give a blank stare when I ask, "So, what do you want people walking out of the training doing differently?"
By far it's the exception to see someone who's designed a program than began with an organizational goal as the focus of the design.
Whether it's a training program, marketing activity, or professional development plan, framing design around the organizational outcome makes it way more likely that you'll get one.
Chapter 9
Gary Vaynerchuk is one of the most successful entrepreneurs of our era. As such, I read his book Crush It* a few years back. It's about strategy for creating great business results, but the best lesson from it is simple.
The title of chapter nine is, "The Best Marketing Strategy Ever." When you turn the page, there's just one word:
Care.
End of chapter.
Results and care for people don't just go together…they depend on each other.
I welcome your thoughts and comments.
Monday's Show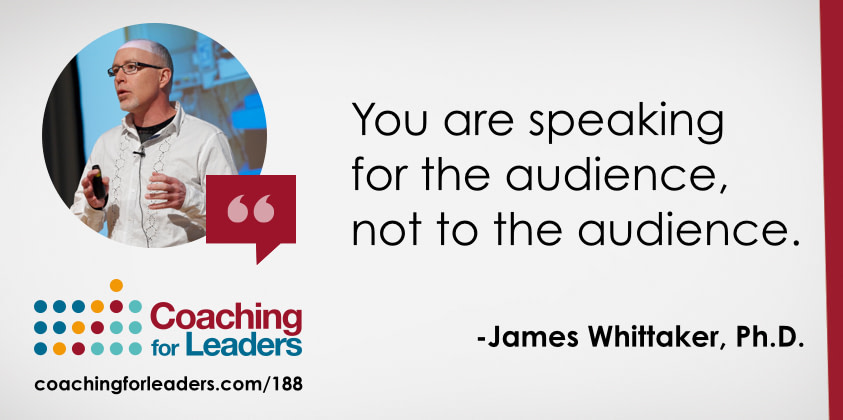 188: The Art of Stage Presence with James Whittaker
I heard about James Whittaker from one of our listeners at Microsoft. I knew he'd have something for almost all of us to learn about stage presence. He's the author of The Art of Stage Presence* and joined me on Monday's show.
Speaking of results, here's the money line:
"You are speaking for the audience, not to the audience."
I'm in full agreement that if you get the honor to present to people, the best result you can hope for is that the audience gains a ton.
The full audio and show notes are on the Coaching for Leaders website.