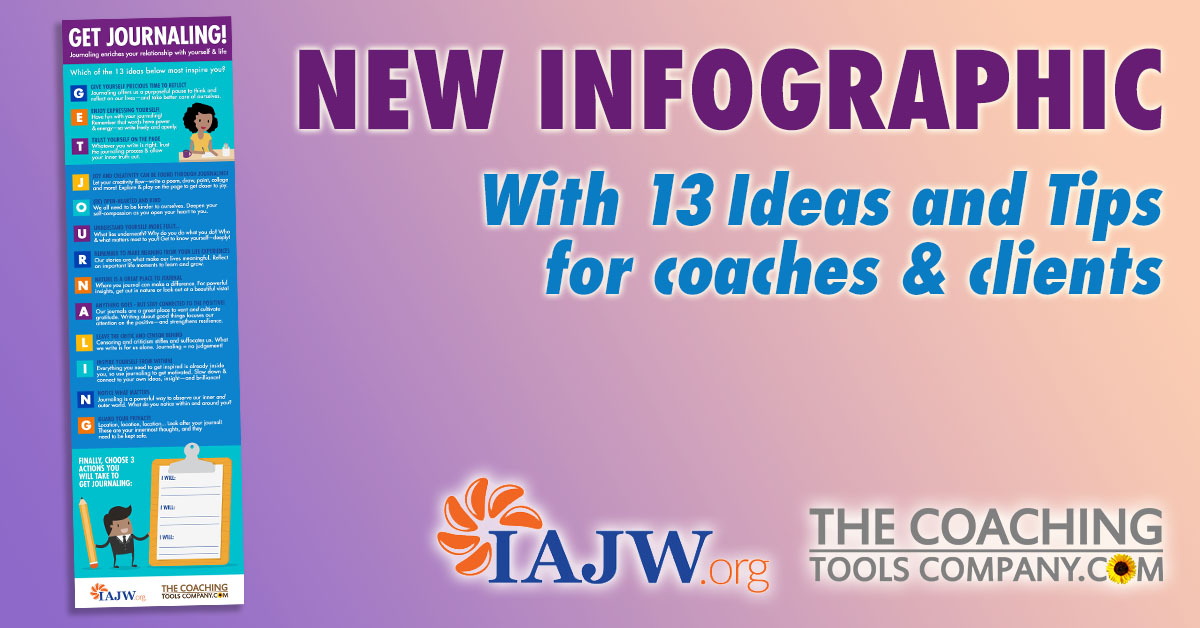 Journaling is a powerful tool to raise our self-awareness. It"s a wonderful resource we can both use ourselves—and offer our clients
Below is a beautiful co-created infographic. Emma-Louise and Lynda Monk of the IAJW (International Association for Journal Writing) had a lot of fun creating this infographic to offer tips and ideas for both coaches and clients GET JOURNALING!
NOTE: Want to share JUST this infographic (and not the whole article)? Right-click (or Ctrl+Click on a Mac) to save the full-size infographic below to your device, then simply share the saved infographic direct from your device!
Here are 13 tips to help you and your clients get journaling:

If you liked this article, you may also like:
What's your favorite way to use journaling with your clients? Share your ideas in the comments below!
Author Bios

Contributing author:
Emma-Louise Elsey has been coaching since 2003. She's a huge journaling fan, and the founder of both The Coaching Tools Company.com and her latest venture, Fierce Kindness where shares personal tips, tools and ideas to transform ourselves—and our world! Originally a project/relationship manager for Fortune 500 companies she combined her passion for coaching, creativity and love of systems to create 100+ brandable coaching exercises including 30 completely free coaching tools. She serves coaches through her newsletter for coaches and loves to offer ideas for your coaching toolbox!