Tomorrow, I'm opening up applications for newly created openings in the Coaching for Leaders Mastermind. If you want to discover more, here's where to get the details.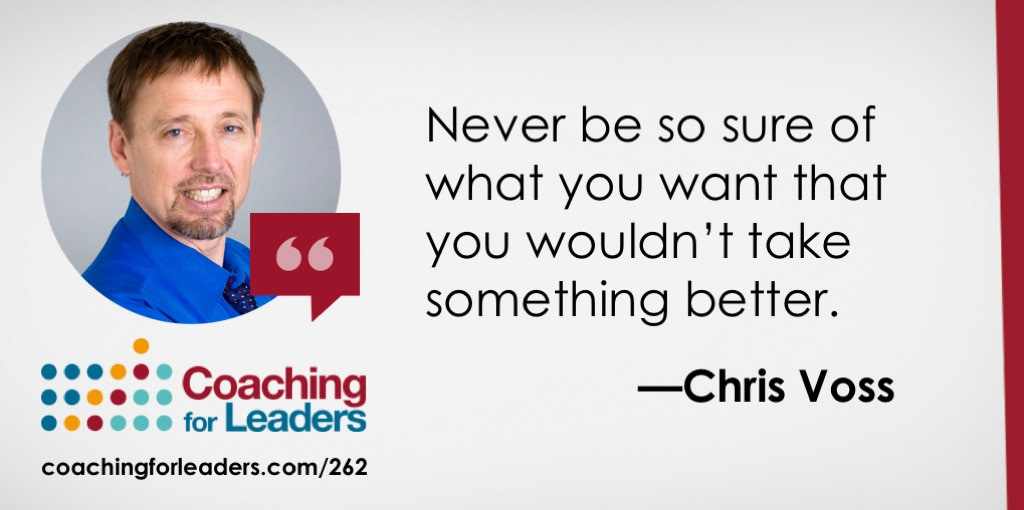 Monday's Episode
262: Negotiating As If Your Life Depended On It: Chris Voss (web) (Twitter) is the Founder and CEO of the Black Swan Group and the author of Never Split The Difference: Negotiating As If Your Life Depended On It*. Chris was the lead international kidnapping negotiator for the FBI.
Key Points
Compromise is a dirty word.
Really smart people often have trouble being negotiators.
Negotiation is not just a rational conversation, but brings in the emotion of both parties.
A successful negotiation is one where the other party walks away respecting you after the interaction.
Beware of anchoring high at the start of a conversation as it may exclude you from an even better outcome.
Resources Mentioned
Related Episodes
CFL143: Accepting Feedback With Sheila Heen of Difficult Conversations
CFL238: How to Be a Non-Conformist, with Adam Grant
CFL255: How Women Make Stronger, Smarter Choices
Quick Reads
A Parable of Contentment and Happiness: This is probably one of the earliest recorded executive coaching sessions. While the lesson is thousands of years old, it may be exactly what you need to hear today.
Icebreakers Are Terrible. They Also, Unfortunately, Work Really Well: I'll admit that I'm not a fan of icebreakers either, but this article has me thinking I should have a better attitude. Key point: "The primary reason people hate icebreakers…is that most of them lack that sense of purpose."
Want to Create Things That Matter? Be Lazy: Great article by past guest Cal Newport on how to engage in deep work. He appeared on the podcast earlier this year and sparked lots of thinking about productivity in Mastermind discussions.
Audio
The Balancing Act: As we all live longer, many more of us will be called on to balance caregiving for elders (and other family members) with daily life. Bonni recently interviewed Kerry Moore, an expert in social work and hospice care. An important listen if you're navigating this with loved ones.
Just For Fun
Stop It: Bonni reminded of this great clip she uncovered awhile back from Bob Newhart. These 6 minutes should provide you with all the coaching skills you'll ever need.