Have 90 seconds to help me out?
It's the last coaching guide of the year and you can help new listeners coming in January (and me) a ton by posting a rating or review on iTunes for the podcast.
If you've reviewed the show already this year, thank you! If not, here's 90-seconds on how to do it if you're using a computer/laptop and here's how to do it if you're using an iPhone/iPad. Thanks for your support in 2016 — and Happy New Year.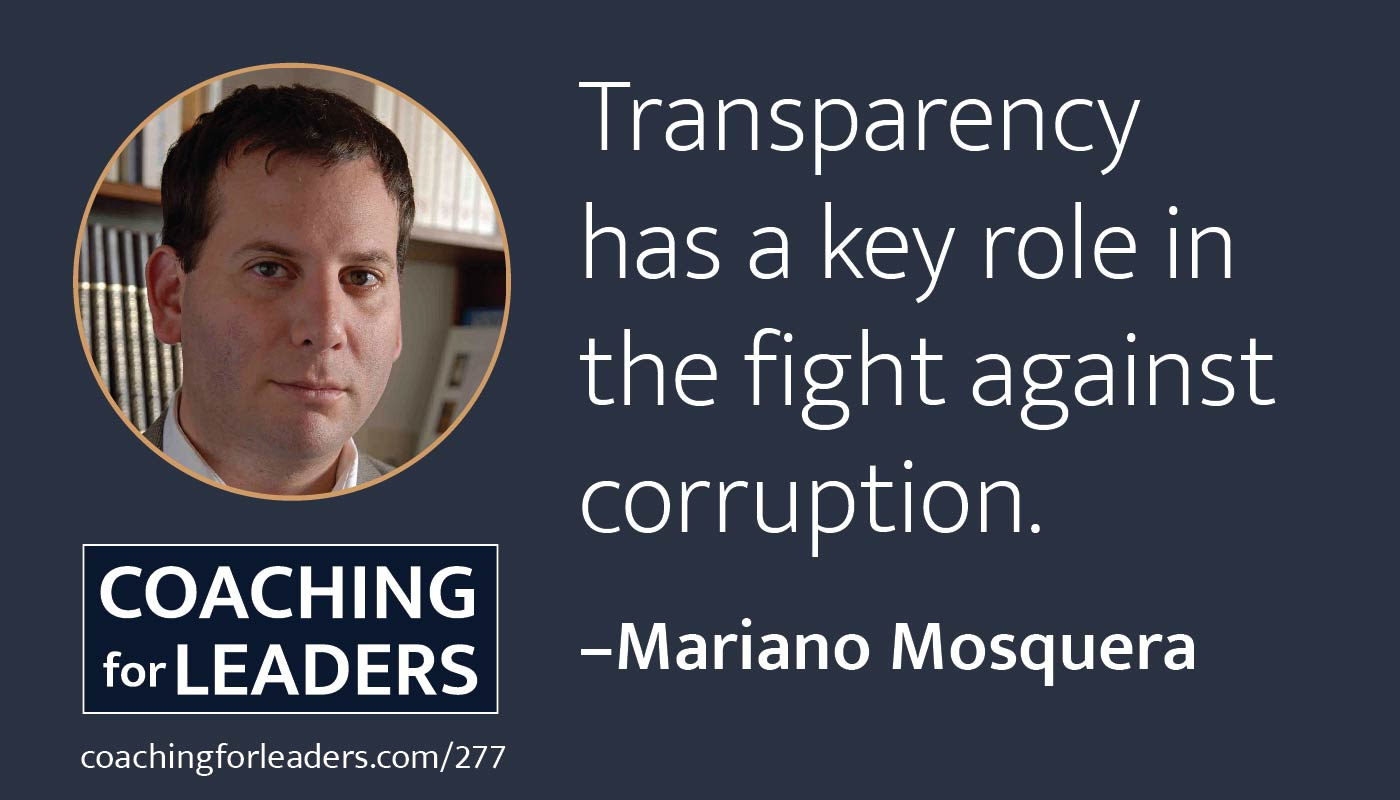 Monday's Episode
277: How to Prevent Corruption: Mariano Mosquera joined me to speak about corruption in organizations. He is a professor of Ethics and Access to Public Information of the National University of Córdoba and professor of Public Policy at the Catholic University of Cordoba.
Key Points
Different places in the world have different concepts of corruption.
A lot of corruption is created by poorly conceived or implemented laws.
Some actions may be legal but should be still be considered institutional corruption.
Just trying to catch corrupt individuals doesn't work; we need to change the rules that incentivize or allow corruption.
If you can anticipate corruption you can help prevent it.
Rather than immediately reporting corruption, sometimes it's better to simply steer the conversation another way.
Resources Mentioned
Related Episodes
CFL144: How We Do Things Around Here To Get Results
CFL154: Eight Ways To Use Power For Good
CFL254: Use Power for Good and Not Evil
New MemberCast
MemberCast 2: Lessons From Restructuring an Organization: In this new MemberCast, Academy member Melanie Jocson of Virtual Partners Group and I discuss how she changed the structure of her organization to Holacracy earlier this year. Melanie is also great person to know if you're a financial planner, as her firm helps financial planners take control of their back office operations.
Remember that you'll need your FREE membership on the Coaching for Leaders website to access MemberCasts. Here's the link to activate your FREE account.
My Favorite Episodes of 2016
I take something from every guest conversation, but there are always a few episodes that really stick with me. Here are my ten favorites of 2016:
CFL229: Leadership Lessons From the Challenger Disaster: Allan McDonald is the one person who officially refused to sign for the launch of Space Shuttle Challenger. On the 30th anniversary of the disaster, I aired his story. His acclaimed book, Truth, Lies, and O-Rings*, details the aftermath, including the only time in American history that the U.S. Congress passed a law to benefit a single person: him.
CFL232: How to Manage Your Inner Critic: If you're not aware of how to dialogue with your inner critic, it can substantially limit your effectiveness in every area of life. In this episode, Tara Mohr, author of the book Playing Big*, teaches us how to recognize our own inner critic and prevent it from interfering with the most important action steps we need to take each day.
CFL233: Engage in Deep Work, With Cal Newport: No single book generated more discussion and behavior change in the Coaching for Leaders Academy this year than Cal Newport's new bestseller, Deep Work*. In this episode, Cal and I discussed in detail the shifts that many of us can make in doing better, more meaningful work.
CFL237: These Coaching Questions Get Results: This was the #1 downloaded episode this year — and for good reason. Michael Bungay Stanier's new book, The Coaching Habit*, is probably the most brilliant book on practical coaching that I've seen. He provides a solid framework on what to be asking when you are coaching.
CFL238: How to Be a Non-Conformist, With Adam Grant: Like a lot of people, I assumed that the people creating the most innovative organizations and ideas were the ones taking the biggest risks. Not true, it turns out — and Adam Grant's book Originals* details the research showing why. If you're planning to start a new venture in 2017, this is a must-listen.
CFL241: Turn Followers Into Leaders: During his time as captain, David Marquet turned the worst performing ship in the United States Navy into the best performing ship. His book Turn the Ship Around!* details what his officers and he did. Pssst – it wasn't easy, but it was surprisingly simple.
CFL249: How to Succeed With Leadership and Management, With John Kotter: The world's leading expert on organization change appeared on the show to discuss the distinction between management and leadership. A number of listeners reached out to me after this show to say that they shared this conversion with others almost immediately. If your organization is in growth phase, you'll find a lot here to help.
CFL257: How to Manage Former Peers: The "how do I manage my former peers" question has come in so many times from listeners that I knew it was worthy of an entire episode. My friend Tom Henschel from The Look & Sound of Leadership podcast did a masterful job of detailing exactly what you can do practically to make this transition smoothy — plus the mindset you need to approach new relationship dynamics with confidence and grace.
CFL259: How to Figure Out Your Career: I get a lot of questions from listeners on career advice. This episode has become my go-to recommendation for people when they are trying to determine the next move in their careers. Scott Barlow, host of the Happen to Your Career podcast, did a masterful job providing advice on how to frame your career and the practical actions to take. (Bonus: he also interviewed me about my career on his show.*)
CFL273: Essentials of Adult Development: When I air an episode and get a bunch of emails saying, "That was exactly what I needed to hear today," I know the conversation hit the mark. That happened a bunch after this episode. A lot of us haven't given much thought to the stages of adult development, even though they influence every professional (and personal) interaction. You'll know a lot more after hearing Mindy Danna's expertise.