Last week, a close friend said: "'Leaders aren't born, they're made,' is a nice philosophical statement — but not very descriptive of Coaching for Leaders."
When he said that, I immediately knew it was time for a new tagline — one that better captures the value you get from Coaching for Leaders. Of course, a new tagline should come only with your input.
What's the value you GET from listening to Coaching for Leaders in 3-5 words? Not the content of the show. Not a truth about leadership. Just the result that YOU get.
Have 30 seconds? Kindly click here so I can consider your response to this one question survey — and thanks in advance.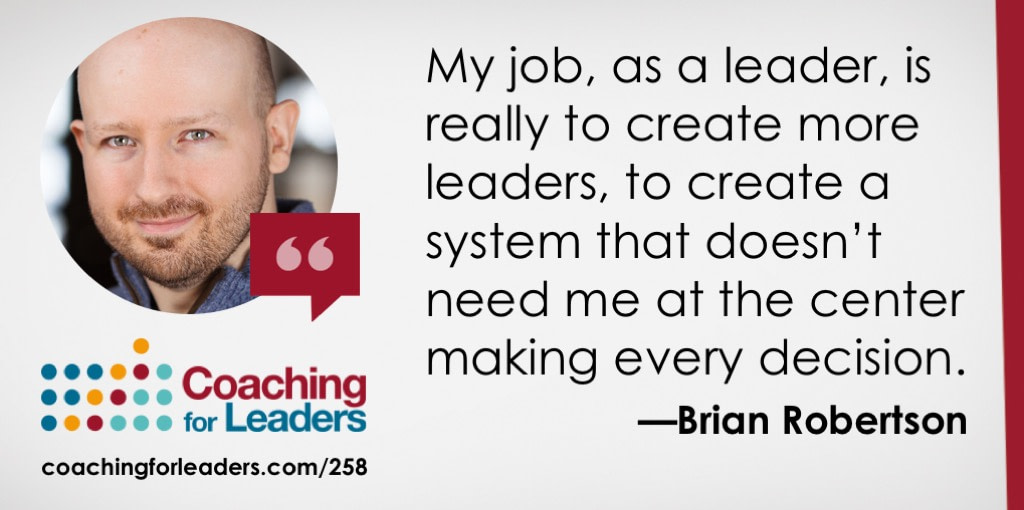 Monday's Episode
258: Moving Beyond Command and Control: Brian Robertson joined me on this week's show to discuss Holacracy, an alternative to traditional organizational structure. Whether Holacracy is right for your organization or not, our chat will get you thinking about alternative ways to manage. Visit the link above for the show notes and key points/resources.
Next week on episode 259: Scott Barlow joins me to discuss how to figure out your career.
Quick Reads
Compliance is Quite Different From Contribution: Speaking of command and control, are you rewarding compliance or contribution? Seth Godin makes the point in five sentences.
To Be a Better Leader, Learn This FBI Hostage Negotiation Tactic: I found this compelling and a must-read if you're walking into a tough situation. Chris Voss is already booked to appear on the podcast.
Henry Ford and the Actual Value of Education: Henry Ford certainly wasn't perfect, but few would dispute his lasting influence in business and industry. I find myself in agreement with his much of his thinking on education.
Do Your Friends Actually Like You?: Many people in our community have told me that they want to build better friendships. If that's a goal of yours too, here's a good perspective.
Books
The Coaching Habit by Michael Bungay Stanier*: Got an email just this week from a listener who used Michael's strategies in his next meeting after hearing him on the podcast. I also keep coming back to Michael's seven powerful questions.