Six Ways to Recover From a Bad First Impression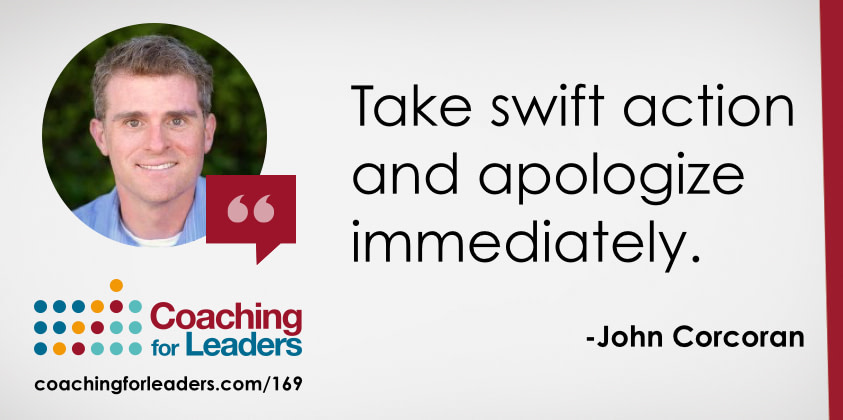 This week I welcome John Corcoran back to Coaching for Leaders. You don't get to have worked in a place like the White House (as John has) without knowing a bit about how to handle situations with people and building your network. John recently wrote How to Recover From a Bad First Impression and came onto the show this week to discuss the six strategies he outlined. Here's the notes and audio.
Getting Better at Getting Better
Major advances in professional development in manufacturing and sports have led to incredible performance in those fields. Yet, many fields and professionals struggle with this. The "I'm/we're done learning" attitude still permeates many fields, including some (like education) that should know better.
Everyone gives lip service to professional development, but even in 2014, so many have yet to embrace a better way. A recent New Yorker article examines how to actually get better. This is a potentially huge competitive advantage to organizations who invest seriously here, especially in industries where it's not standard practice.
You're Paying Who?
Chris Lema is a guru in the WordPress community, one of the most popular website platforms. People pay him for consulting time.
Or do they? In this article, Chris reminds a lot of us who get hired to provide advice, coaching, or consulting to clients that people aren't really paying for our time. They're paying for theirs.
Mirror, Mirror on the Role
A student at Arizona State University started the Veteran Art Project to capture images of the members of the US military. I haven't been able to get this photography collection out of my head since I first saw it last month.
The juxtaposition of personal and professional in these images is stunning and strikes me three ways: (1) How much we assume about people based only on what we see, (2) how little we do to get beyond that, and (3) how we're all more alike than we are different. (Note: some images not appropriate for children).
The Tipping Point
My podcast recommendations last week must have been the tipping point for National Public Radio to decide podcasts were now mainstream. NPR aired a segment this weekend on the rise in popularity of podcasts, fueled by listeners and advertisers.
For the record, I have no plans for outside advertisers on Coaching for Leaders. Even more importantly, I've finally started listening to Serial.
Keep Calm and Comment On
I'm experimenting with this new format for the weekly update. Love it? Hate it? Tell me here.
Received from a friend? Join weekly updates here.