The internet age has leveled the playing field. It used to feel like you had to know someone, or get discovered, or be in the right place at the right time. In today's economy, it's all about influence — and a lot more people are able to play.
This week's episode with Ryan Williams captured it. And speaking of more people getting to play, a reminder to Chicago area listeners that I'm co-hosting a public meet-up downtown Chicago the evening of July 7th. I'd love to meet you.
This Week's Show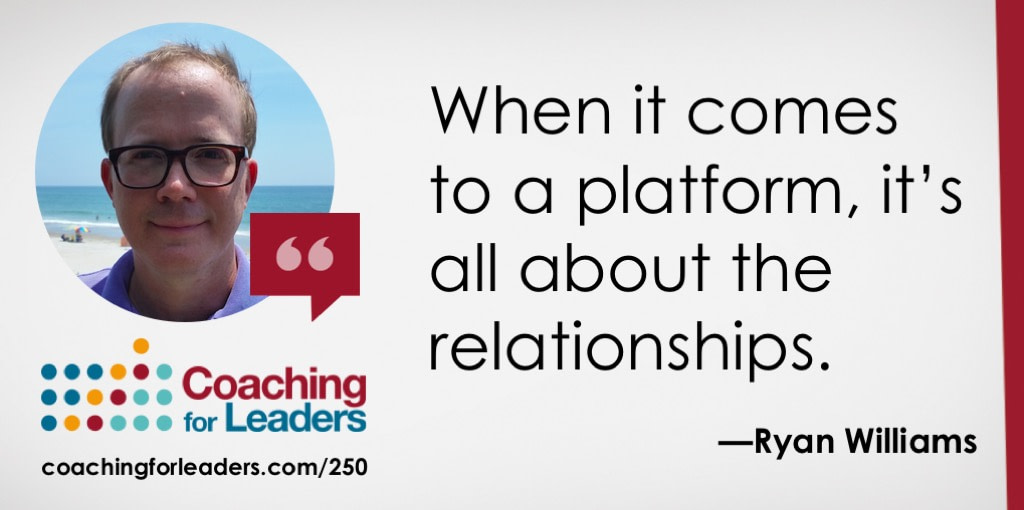 250: How to Master the Influencer Economy
Ryan Williams is the author of the new book, The Influencer Economy. He joined me on this week's show to discuss how we can all better navigate a world where the rules have changed (for the better) and why we should get started.
He also offered a free chapter from his book for our listening community at this link.
Quick Reads
Why We're So Bad At Coaching And Performance Appraisals: Virtually nobody likes the traditional performance review process. In this article, past guest Michael Bungay Stanier describes how to do better with coaching.
You Don't Have My Permission: One of my favorite episodes this year was the conversation with David Marquet about how to turn followers into leaders. Here's how one CEO is working to put Marquet's strategies into action.
No One Cooks Anymore: Busy work schedules affect other areas too. We now spend more money on restaurants than we do on groceries.
Longer Reads
How To Work Less And Still Get Ahead: When it comes to how many hours we work, less could be more. One common challenge articulated here: "I always felt that my own personal worth was wrapped up in how successful the business was."
Lazy Leadership: Why I rarely go to the office, only see my team a couple times a week, and let other people make important decisions: Speaking of working less, this article articulates a philosophy a lot of us would benefit from.
Video
The Science of To-Do Lists: Psychology Can Make You More Productive: Two minutes from Charles Duhigg on the right and wrong way to use to-do lists.
Just For Fun
8th-Grader Nails Impersonations Of Trump, Clinton, Obama, Sanders: Totally worth 8 minutes.