Two fast news items before this week's guide below:
Two seats are open in the Coaching for Leaders Mastermind and I'm briefly opening up an application window today through Monday, June 20th. Membership details and the application are at this link.
Are you in the greater Chicago area? I'd love to meet you! I'm co-hosting a public meet-up downtown Chicago the evening of Thursday, July 7th. Details here on how to participate.
This Week's Show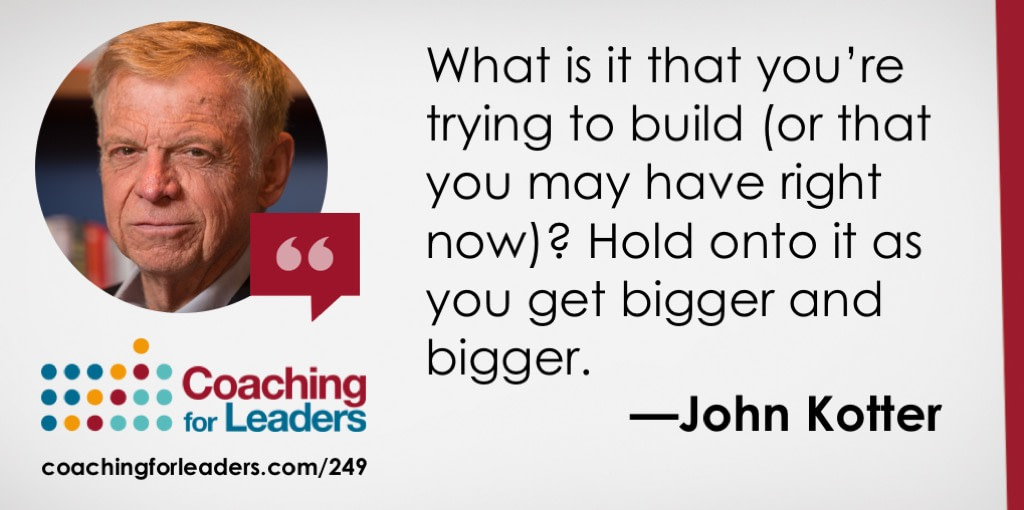 249: How to Succeed with Leadership and Management, with John Kotter
John Kotter is perhaps the leading authority on the planet on the topic of organizational change. His blockbuster bestseller Leading Change* is on the bookshelf of almost every coach and organizational development practitioner I know. It's also one of my top recommendations to leaders who are navigating change.
He's just released a new book last week titled That's Not How We Do It Here!* and joined me on this week's episode to discuss the book and the distinction between leadership and management. Check out the show notes and full audio on the Coaching for Leaders website.
Quick Reads
GE Set the Employee Review Standard. Now It's Changing: The forced ranking review system that GE popularized never made sense to me. Finally, even GE is acknowledging that they need something else. Forced ranking is officially the way of the past.
We Are Way Harder on Female Leaders Who Make Bad Calls: Sadly, the research supports this conclusion. Therese Huston, the author of this article in Harvard Business Review, is an upcoming guest on the podcast to teach us more about the implications.
Unless You're Oprah, 'Be Yourself' Is Terrible Advice: I greatly respect the work of past guest Adam Grant. On this article, I disagree with his conclusions. There's a key difference between authenticity and selfishness, and Grant misses it. What's your take?
Longer Reads
How and Why to Hold a Weekly Marriage Meeting: For those in marriages or long-term partnerships, here's a framework that will be useful. Bonni and I do something similar every Sunday evening.
Audio
Building Empathy: Tom Henschel aired a great podcast episode last week on empathy — and reminded me of this great video from Brené Brown on the same topic. Both are worth a listen.
From My Desk
The Best Way To Accept Praise: Just what it says. Period.