Are you in South Florida? I'm arranging an informal, listener meetup in Ft. Lauderdale the evening of Tuesday, November 22nd. Find details here.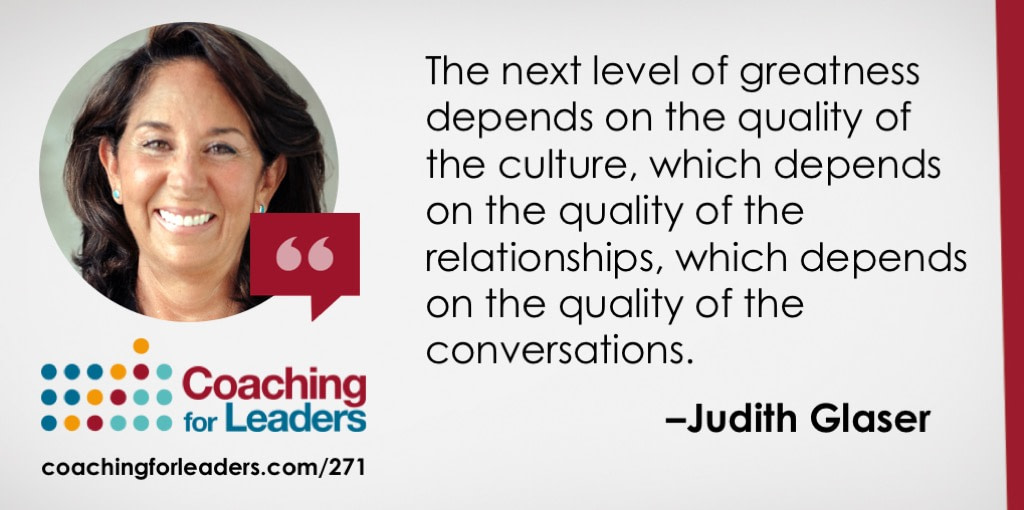 Monday's Episode
271: How to Increase Your Conversational Intelligence: Judith Glaser appeared on the show to discuss the lessons from her bestselling book, Conversational Intelligence: How Great Leaders Build Trust and Get Extraordinary Results.
Key Points
Great conversation leads to great relationships, which leads to great culture.
Level I conversations are about resistance
Level II conversations are about "wait and see"
Level III conversations are about co-creation
When we are threatened by others, cortisol can linger for 26 hours.
Children have the same capacity for conversational intelligence that adults do, but only if we have the courage to nurture their growth.
Resources Mentioned
Related Episodes
CFL91: How to Listen When Someone is Venting
CFL161: How To Address Difficult Conversations
CFL177: How to Start a Conversation With Anyone
Quick Reads
Google's Former Happiness Guru Developed a Three-Second Brain Exercise For Finding Joy: It takes more than three seconds to read, but skill a great, quick message.
How to Say No When It Really Counts: This isn't about taking on too many commitments — it's about how to say "no" when saying "yes" could get you into really hot water.
Confessions of an Untraumatized 40-Something Happily Married Woman: The only time "unremarkable" sounds good it when it's on a medical report. If you're feeling somewhat unremarkable these days, this article from my friend Beth Buelow will help.
In-Depth Reads
How To Write Your First Pain Letter: Cover letters not working for you? This approach may be exactly what you need.
Inspiration
We the People: Feeling compelled to defend your opinions after last week's American Presidential election? Past guest David Marquet has an important call to action for all of us.