Two interesting things happened since Monday:
First, I've received more emails and comments than normal about how value of this week's conversation. One person wrote:
I have had some form of unaddressed goal on my work development plan related to financial acumen for two years now, but never quite found 'the thing' that would hit the spot.
Second, significantly fewer people downloaded this week's episode than normal. I fully attest this to the phrase "financial intelligence" being in the title. (I've noticed similar behavior from our kids when they see vegetables on the table.)
Both observations reinforce several of the points Joe Knight made during the episode. If you initially skipped it over, it's worth going back to just try a few bites of those veggies. You'll like them — I promise.
This Week's Show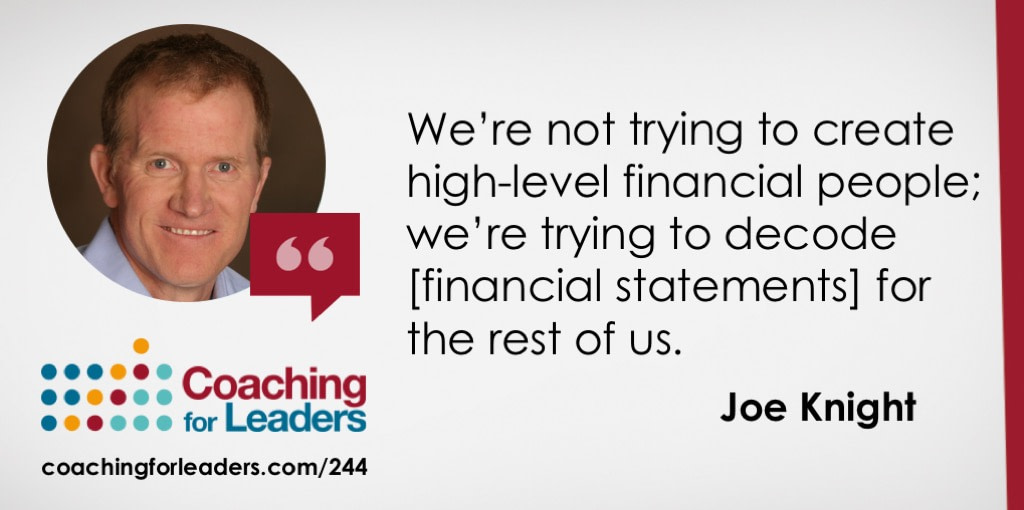 244: Improve Your Financial Intelligence
Joe Knight is the co-author of the book Financial Intelligence*, listed on the Top 100 Business Books of All Time. He joined me on this week's show to talk about financial literacy for the rest of us — the fundamentals that every leader should know in order to speak with credibility about business numbers.
Be sure to check out the show notes this week for links to many of the resources the Joe discussed on the show, including the financial intelligence test we examined.
Quick Reads
Over-Led and Under-Managed: There are literally hundreds of cliched business sayings that imply something I don't believe to be true: management is bad and leadership is good. A Mastermind member recently passed along this Dan Rockwell article. It beautifully articulates the importance of both — and the danger of either extreme.
How to Self-Promote Without Sounding Like a Conceited Jerk: As discussed on the recent episode with Joel Comm, a lot of us have been handed the tools to broadcast ourselves online, without thinking through how to do it well. This great read from Beth Buelow will prevent you from falling victim to some the most common mistakes.
Audio
Personal Histories as Your Brand: In the excellent book The Five Dysfunctions of a Team*, Patrick Lencioni articulates a simple (and compelling) exercise that leaders can use with teams to build relationships and trust. I had forgotten about it until I heard this podcast episode of The Look & Sound of Leadership.
For those who follow Tom's show as well, he's got a great new website up. More importantly, he's absolutely someone to consider if you're seeking an executive coach.
Video
One Question to Help You Make Better Decisions: Past guest Daniel Pink shares 90 seconds of advice on how to make better decisions. It turns out that asking yourself just one question can help a lot.