If someone had told me five years ago that I'd ever air a podcast on how Twitter can help you lead, I might have rolled my eyes. These days, the social network has expanded its influence way beyond just, "What's happening?" I use Twitter way more than I ever thought I would.
Check out this week's episode and more below that will put you in the right mindset to lead better.
This Week's Show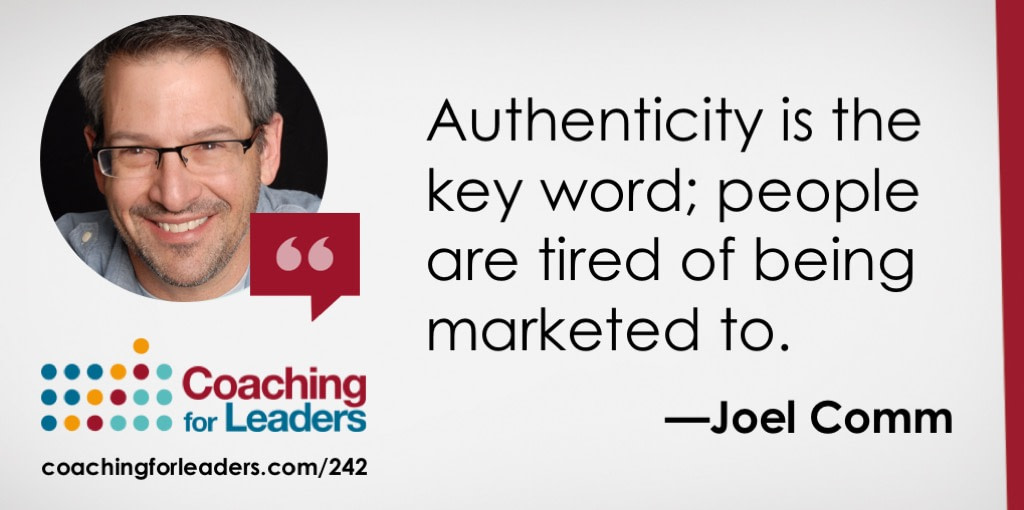 242: How Twitter Can Help You Lead
Joel Comm is a social media influencer and the co-author of the book, Twitter 3.0*. With almost half a million followers on Twitter, he knows a bit about what works to influence online.
Whether you use Twitter actively or passively, there are lots of opportunities for leadership development. The full audio and show notes can be found on the Coaching for Leaders website.
Quick Reads
Being Tired Isn't a Badge of Honor: As a dual-income family with two small children in our house, I'd be fibbing if I told you I never had a late night. Yet, I've found again and again the wisdom in this article by Jason Fried to be right on.
Don't Heed the Haters: Marie Curie (the only person to get Nobel Prizes in two different sciences) was in the midst of public scandal and received this a letter Albert Einstein. This line from Einstein strikes me as profound: "If the rabble continues to occupy itself with you, then simply don't read that hogwash, but rather leave it to the reptile for whom it has been fabricated."
3 Qualities Gordon Food Service Expects From Leaders: One of our Mastermind members works with Gordon Food Service and finds this executive leader especially inspiring. It also reminds me that some of the best leaders out there are the people you've never heard of (another reason I've always liked the book The Leadership Challenge*, since the focus/research is on the "everyday" leader).
Longer Reads
Why So Many Smart People Aren't Happy: I agree with the perspective in this article (it aligns with a lot of the research I've seen too). It also aligns beautifully with my favorite book on human motivation: Drive* by past guest Daniel Pink.
Downloads
Giving Feedback Flowchart: I love seeing what our community members do with what they've discovered on the show, so I was impressed when I received this flowchart recently from Joe Ashurst. He created this for himself and his colleagues and kindly make a few updates to share with the rest of us. Hope you find it valuable too.
From My Desk (or Wall)
Stachowiak Family Mission: Awhile back, Bonni and I crafted our family mission statement. When she was on travel last week, I got it designed as part of her birthday gift. Randy's Design did a great job, if you're looking for something similar.