I spent several weeks during September and October interviewing community members who applied for the inaugural Coaching for Leaders Mastermind groups that recently launched. I was a joy to talk to many people personally — and also a struggle, since many more great people applied than we had seats for.
One of our inaugural members asked recently if I heard any similar patterns among the people I interviewed. A few patterns stuck out — and one of them was the topic of friendship.
Some people alluded to it — and some people came right out and said it: developing close, personal friendships was a struggle in their busy lives…and something they hoped to get better at, through the Mastermind.
The pattern didn't surprise me. I've seen many articles in the past few years documenting a struggle with friendships for a lot of us. In this guide, perspective on the state of friendship today and what you can do to get better.
We Need to Catch Up Soon
Early in our marriage, it seemed like just about every year, Bonni and I would make friends with another couple, only to have them move away when one of them had a great career opportunity come up.
It's a reality of adult friendships that we all understand — and also find frustrating. There's a temptation to to think "why bother?" when so many other variables of life get in the way.
That's why I found a recent piece in the Atlantic to be insightful. Friendship is important at every stage of life, but as the article states, "The voluntary nature of friendship makes it subject to life's whims in a way other relationships aren't." Here's their analysis of how friendships change in adulthood.
What's Your Name Again?
A generation ago, many people worked for the same companies their entire careers. Social outings, and even vacations, often included friendships that started in the workplace.
For better and worse, the world has changed. We stay connected better through social media with people outside of work, many more of us are working virtually, and a lot of relationships built at work seem more transiant.
Here's a test for yourself: if you left your organization tomorrow, how many of the people that you work with today would you still be speaking with regularly in a year?
For more and more people, that number is getting pretty small. Adam Grant, Wharton Business School professor and author of one of the best books on relationships*, examined this trend recently and concluded: Friends at work? Not so much.
The Golden Rule
Perhaps I'm just a sucker for inspiration, but I find it helpful to discover when someone I admire has struggled with some of the same things I have. It makes the obstacle seem more surmountable — and reminds me that there's no easy road to success.
When I read an article on friendship by Michael Hyatt awhile back, I'll admit to being a bit surprised that he realized one day that he didn't really have any close, personal friends. After all, a lot of us who write and produce podcasts admire Hyatt — he's built one of the most successful platforms online on to help people in their professional and personal lives.
Seeing him struggle with the same things I was gave me hope at the time — and his simple message is a starting point for anyone wanting to build real friendships: be the friend you wish you had.
How to Win Friends and Influence People
It's no secret that I'm a big fan of Dale Carnegie. His work reminds me daily of how I can get better with people, where I fall short, and the roadmap to be more effective.
There's a reason that Carnegie's bestselling book How to Win Friends and Influence People* is (as I'm writing this) ranked #46 of all the books currently sold on Amazon. That's even more impressive when you discover that the book was originally published way back in 1936.
If you do nothing else for your development for the rest of this year, read Carnegie's book*. I may change your life.
Monday's Show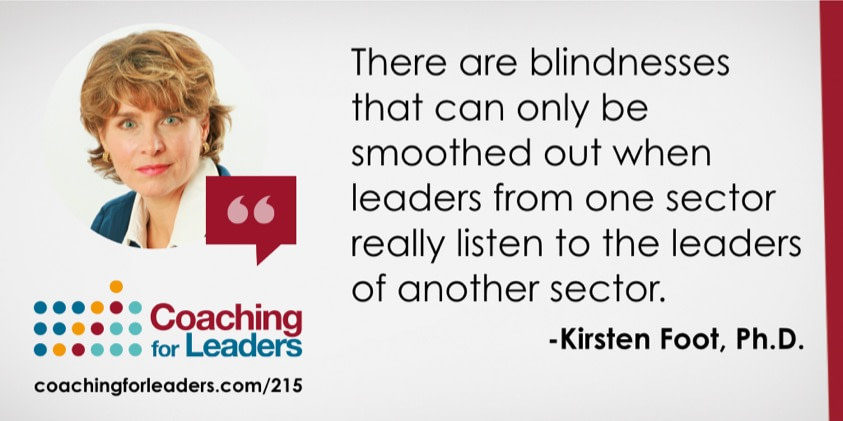 215: How to Collaborate Across Organizations
Speaking of things that a lot of us aren't as good at as we'd like to be, this week's episode was on collaboration. I was joined by Kirsten Foot, a professor at the University of Washington who's studied collaboration extensively and now is helping organizations collaborate to end the tragedy of human trafficking.
Kirsten is also the author of the new book Collaborating Against Human Trafficking: Cross-Sector Challenges and Practices*. The proceeds of the book go right back into efforts to end trafficking. You can discover more of the resources she mentioned and the full audio and show notes on the Coaching for Leaders website.