Several weeks ago, I was having lunch with a client who's in his 70's. He's a highly respected person in his organization and has also done much to better the world through volunteer work.
He mentioned that he had no plans to ever fully "retire." I mentioned that it was also hard for me to imagine stopping work entirely when I was at retirement age.
He replied, "Well, it's not so much about the working part, it's about staying relevant."
In this week's issue, how to stay relevant.
Be Kind
Andrew Bosworth was one of the early employees at Facebook and built a lot of the key infrastructure that many of us recognize on the site today. He was integral to Facebook's early success.
And he almost got fired.
It wasn't his work product. Colleagues simply didn't want to deal with him.
He writes, "I don't think I was ever outright mean to anyone. I was just callously indifferent." Bosworth quickly learned that being relevant was all about kindness.
Feedforward
Marshall Goldsmith is probably the best-known executive coach in the world and author of one of my favorite reads for leaders, What Got You Here Won't Get You There*.
Goldsmith challenges the traditional notion of feedback and encourages leaders to try a methodology called Feedforward. He agrees that feedback is valuable, but suggests that dialoging with others about the future is often more accessible and actionable in our daily behaviors.
He details on his website how to get better at one of your goals by getting relevant input from others.
You Can Have Everything
For years, my dad had a sign posted in his office that said this:
Happiness isn't doing what you like. It's liking what you do.
That never made much sense to me as a child. Why wouldn't you just do what you like?
This time of year, commencement speakers are often telling graduates to follow their dreams. Jeff Goins has a different message. If you want to be relevant in the world, don't chase your dream yet.
I'm sure Jeff would also agree with one of my favorite quotes from Zig Ziglar:
You can have everything in life you want if you'll just help enough other people get what they want.
Happy Birthday, SeeSee
SeeSee Rigney retired at 67. It lasted five months.
She couldn't stay away.
SeeSee wanted to be a nurse since she was a child and loves her work in Tacoma General's operating rooms. Today, she's the oldest working nurse in the United States.
Earlier this month, she turned 90 years old. Her colleagues threw a surprise birthday party and captured it on video.
Need your heartwarming 3-minutes today? This is it.
Monday's Show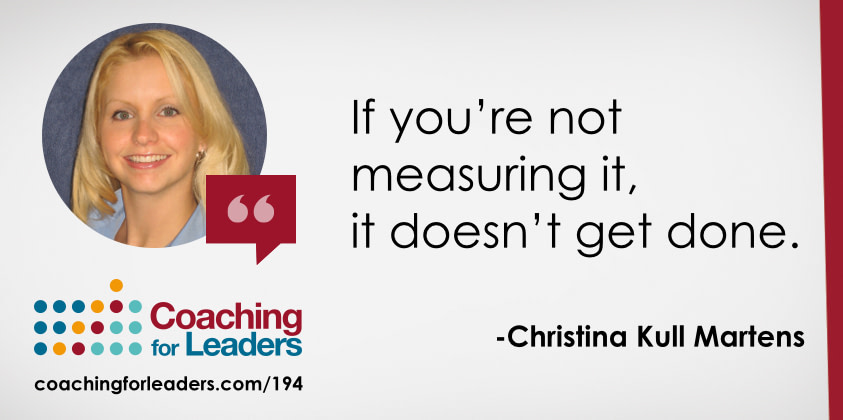 194: Business Results by Doing Our Greenest
Kermit the Frog has claimed for years that it's not easy being green. Turns out, there's also a lot to consider when bringing green into the workplace.
This week, Christina Kull Martens returned to the show to discuss how business results can align with green initiatives. She's the author of Bring Your D.O.G. to Work: A (Green) Person's Best Friend*. Find the full audio and show notes on the Coaching for Leaders website.