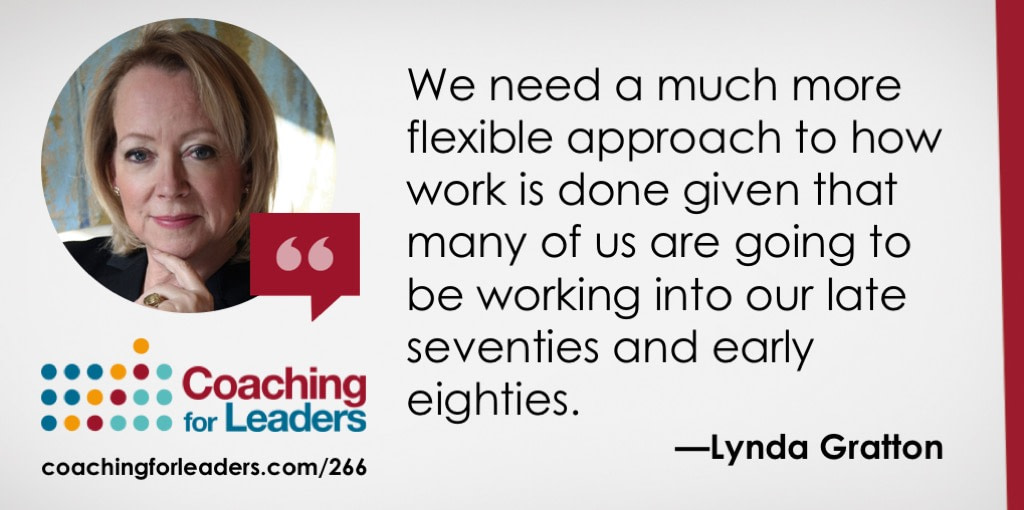 Monday's Episode
266: How to Lead a 100-Year Life: Lynda Gratton (web) (Twitter) is a Professor of Management Practice at London Business School. She joined me this week to discuss her new book with Andrew Scott, The 100-Year Life: Living and working in an age of longevity*.
Key Points
Many more of us, and potentially a majority of our children, will live to be 100 or more
Organizations (and society) still tend to frame our lives in three stages: education, work, retirement
Transitions now happen more often for us and are less likely to be in lock-step with our peers
The problem with transition: the people who know you best don't want you to change
Navigating more transitions in life means that we need to have networks with people who are not like us
Truth is essential in leadership
Resources Mentioned
Related Episodes
CFL84: Daniel Pink on To Sell is Human
CFL196: Marshall Goldsmith on Triggers: Creating Behavior That Lasts
CFL236: How Superbosses Master the Flow of Talent
CFL238: How to Be a Non-Conformist, with Adam Grant
CFL249: How to Succeed with Leadership and Management, with John Kotter
Quick Reads
Top 10 Smart Alternatives to TED Talks: Lots of us love TED talks, but if you're up for something different, here's a list to get you started.
3 Reasons to Own Your Career in 2017 (If You Don't, Research Shows, It'll Own You): Several good reminders here — and I'm especially glad that #3 is becoming trendy (finally).
Audio
CFL54: How Authentic Leaders Apologize: I've seen more than a few stories in the media this week about apologies. On this episode, Bonni and I detail how to apologize authentically — and exactly the three steps to follow.
Creating Safety for Hard Talks: Speaking of difficult conversations, Tom Henschel just released this episode on The Look & Sound of Leadership podcast. It's solid advice for navigating tough situations.
Video
Oprah Winfrey: The Number One Principle That Rules My Life is Intention: A lot of us see Oprah as someone who's got it all figured out. It wasn't always that way, and this conversation between her and LinkedIn's CEO captures the importance of career vision and intentionality.
Just For Fun
Watch Trump Serenade Clinton to "(I've Had) The Time of My Life" During Debate: The best thing I've seen online all week. 90-seconds capturing everything that's right about the internet age.
Future Meetups
Heads up to listeners in the Ft. Lauderdale, Florida, Orange Country, California, or San Diego areas. Here are a few dates I'm considering for listener meetups:
Ft. Lauderdale, FL – Nov. 21st or 22nd, 2016
Orange County, CA – December, 2016
San Diego, CA – Jan. 11th or 12th, 2017
Know of a location we could get listeners together in the dates/locations above? Hit reply and let me know!