It used to be the case that you'd pick up an organization chart and it was immediately clear who you needed to keep informed (or get approval from) for any meaningful work.
Even in the organizations where formal organizational charts are still the norm, the phrase "dotted line relationship" shows up so often that it's clear there's no longer a single stakeholder.
In this week's podcast episode and today's guide, how to influence numerous stakeholders.
This Week's Show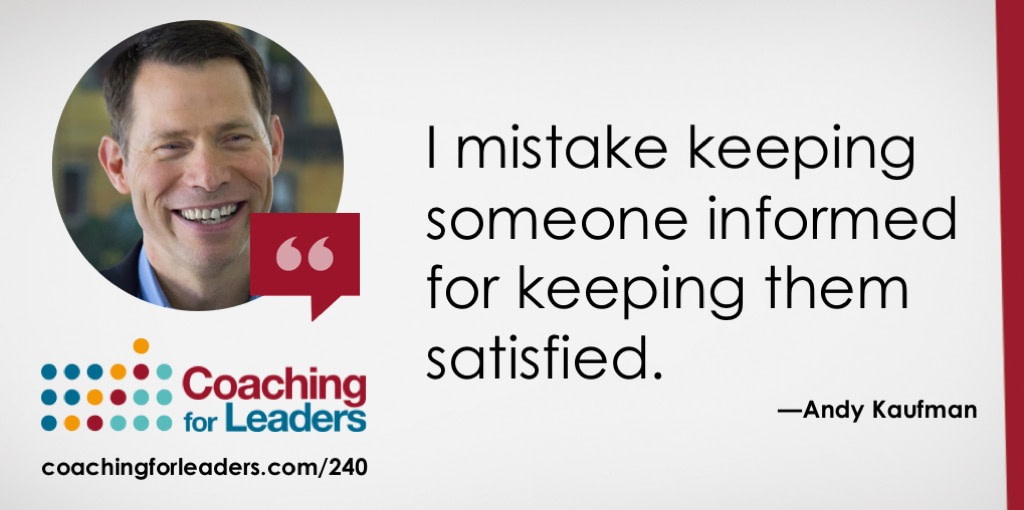 240: How to Influence Numerous Stakeholders
Andy Kauffman of the People and Projects Podcast joined me on this week's show to discuss how to influence multiple stakeholders. One of my favorite quotes from our conversation:
Listen to the other person's story so well that you can say it as well as them.
The full audio and notes are posted on the Coaching for Leaders website. Check out Andy's online management courses Essentials of Project Management and Advanced Project Management. Get $50 off by using the coupon code: coachingforleaders-50
Quick Reads
The Problem With Best Practices: We're all supposed to be identifying and aligning with best practices, right? Perhaps not. This quote resonated a lot: "Best practices don't make you the best. They make you the average."
First Impressions: Great advice to both slow down and be a lot more curious at the start of any new relationship. Works wonders when both are done well.
These 3 Questions Will Immediately Increase Your Emotional Intelligence: Unlike IQ, you can actually do a lot to improve your emotional intelligence (EQ). Used well, these three questions will indeed help.
Longer Reads
Shut Up and Sit Down: Powerful read on the history (and study) of leadership. I agree with lots in this article about how the world is — and also remain fully optimistic that we all have the capacity to do a lot better. It's what drives my work.
Audio
Power Tools for Teams — Plus/Delta: Searching for an exercise facilitators and group leaders use to help teams close meetings, improve processes, and develop the team? Tom Henschel introduces plus/delta on this month's episode of his excellent podcast, The Look & Sound of Leadership.
From My Desk
How to Not Take Things So Personally: Good luck with, "It's not personal, it's business." Here's what you can practically do when it starts feeling really personal.