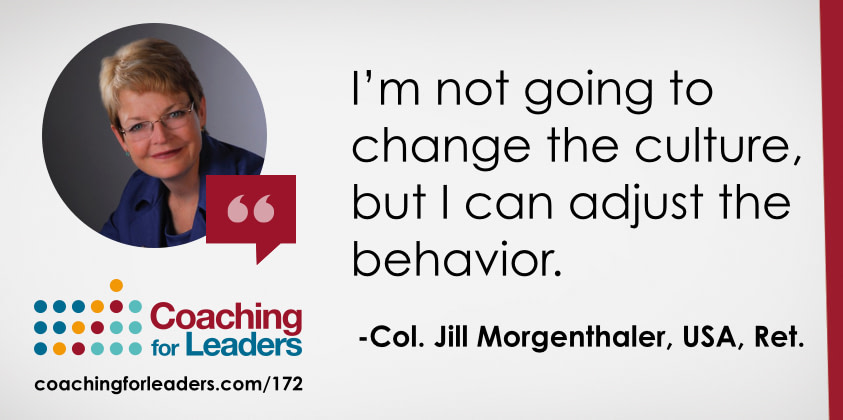 Even when it's known to be the right decision, most organizations are not ready for immediate, massive change. Sadly, there are people out there who insist that if they just fight hard enough or scream loud enough, they will advance most important causes. While I admire the confidence people like that show, too often they are ostracized and exited from the very organizations they are trying to change.
When I read this article from Jill Morgenthaler, I knew she wasn't one of those people. Jill cared deeply about seeing the United States Army integrate women into leadership when she was commissioned as an officer in the 70's. Yet, she (and many other female officers of that era) were also pragmatists who used strategy, wit, and sometimes a healthy does of stubbornness to adjust behaviors where it was possible to do so.
Jill's book The Courage to Take Command: Leadership Lessons from a Military Trailblazer* explores these lessons and provides wisdom for all of us on workplace bullying. Here is the audio link and show notes from our conversation on episode 172.
---
My Weekly Picks
It's Christmas Eve and many in the Coaching for Leader community (including our family) are celebrating the holidays this week with loved ones. Episode 173 of the podcast will air on December 29th, but I'm keeping this week's picks short.
How a Leader's Sense of Humor Brought Joy on Christmas Eve
The NORAD (North American Aerospace Defense Command) Santa tracker has been a mainstay of Christmas Eve in America for decades. However, it was hardly a brilliant plan by the US government to engage kids and families on Christmas.
It all started with a typo in a Sears advertisement that accidentally directed children to call the secret military red phone of a United States Air Force colonel, expecting to hear Santa Claus on the line.
What happened next changed the life of that Air Force colonel forever and will warm your heart. The children of the late Colonel Harry Shoup shared his story this past week with NPR StoryCorps.
What I'm Doing Christmas Eve
Christmas dinner is prepped and my gifts are mostly wrapped, but one more is on the way. In today's 7-minute episode of Carnegie Coach, I speak to the Dale Carnegie principle, "Count your blessings, not your troubles," and how it relates to the green tractor I hope to be assembling later tonight.
---
Your input on my weekly picks is welcome at this link.