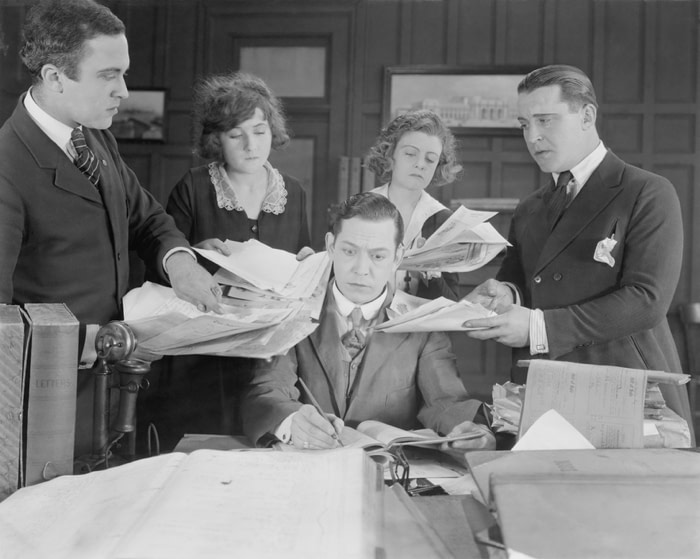 David Allen joined me on Monday's show to discuss the just-released revision to his blockbuster bestseller, Getting Things Done*. After speaking to someone as talented as David, it's only natural to spend time thinking about productivity.
This week's leadership guide examines additional perspectives on productivity.
Limit Email
A lot of us feel pretty good when we see an empty email inbox.
Perhaps too good. The sad irony of email is that the better you get at answering it, the more of it you receive.
Your email box is a list of other people's priorities. Of course we need to be responsive to others (and email is a big part of some jobs) but failure to limit email to its proper perspective will almost always limit your effectiveness.
Cal Newport's recent articles provide stellar perspective on email. He reminds us that we sent people to the moon and back without email. He also points out in the wake of the most recent political scandal that many US Senators rarely use email. Entire companies have even eliminated email.
So what should you do with your time away from email? Deep thinking.
Just Say No
I've mentioned Greg McKeown's excellent bestseller Essentialism: The Disciplined Pursuit of Less* previously. He book became popular, partially because it challenges our society's value of busyness.
In this article, McKeown examines why we humblebrag about being busy (yes, I've done it too) and four ways to embrace more essentialism. His third point strikes me as particularly insightful: enjoy the moment and move on.
What should you say yes to? Eric Barker wrote a great article on the schedule very successful people follow every day.
For even more inspiration, here's an infographic on the daily routines of the world's most famous creative people, based on Mason Currey's book*.
Think Twice Before Canceling
We recently had a number of big projects come up at Dale Carnegie. While it's always fun to get to work on new opportunities, it also means my schedule gets nutty, since I'm a point person at the early stages of a project.
During the busiest week of my year, someone started a meeting by saying, "I'm surprised you didn't cancel this meeting with all that's going on." Truth be told, I had thought about rescheduling the meeting, but decided against it.
After reading this article in Harvard Business Review, I'm better able to articulate why I made that choice. There's a time and place for canceling meetings — just be sure it's not adding to the problem.
Stop Doing It All
A few weeks ago, someone emailed the Carnegie Coach podcast and asked how to handle a seemingly impossible situation: working two people's jobs for an indefinite amount of time, without working tons more hours.
I responded by airing a 7-minute show titled How to Get to Everything and Help Everybody. It's a bit tongue-in-cheek of course. You can't (and shouldn't) try to do it all.
Rachel Martin nailed the same point much more concisely in this 57-second video. (I can verify the same is true for dads).
Save Me, Abraham
I came across one of my favorite quotes again this past week, from Abraham Lincoln:
I do the very best I know how—the very best I can; and I mean to keep on doing so until the end. If the end brings me out all right, then what is said against me won't matter. If the end brings me out wrong, then ten angels saying I was right would make no difference.
Need I say more?
I welcome your thoughts at this link.
---
Monday's Show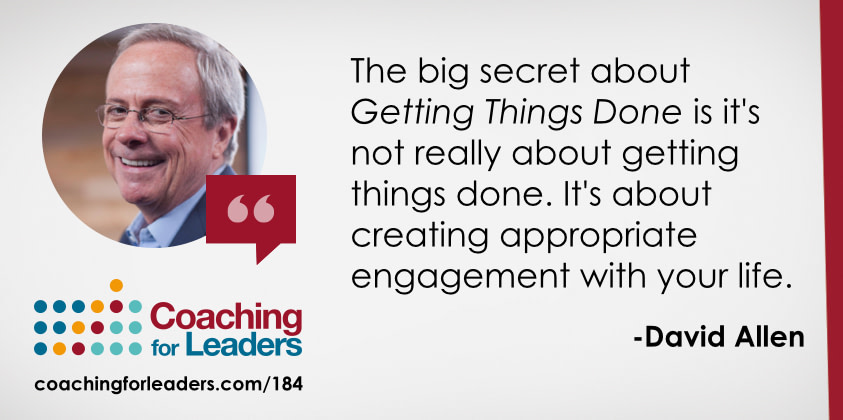 184: Getting Things Done with David Allen
David Allen is one of the top thinkers on the planet for human productivity. He was on the show Monday and a new version of Getting Things Done was released yesterday*.
Here's the full audio and notes for all the resources David mentioned. One of my favorite quotes from our chat?
"The people most attracted to what we teach, the #GTD methodology, are the people who need it least."