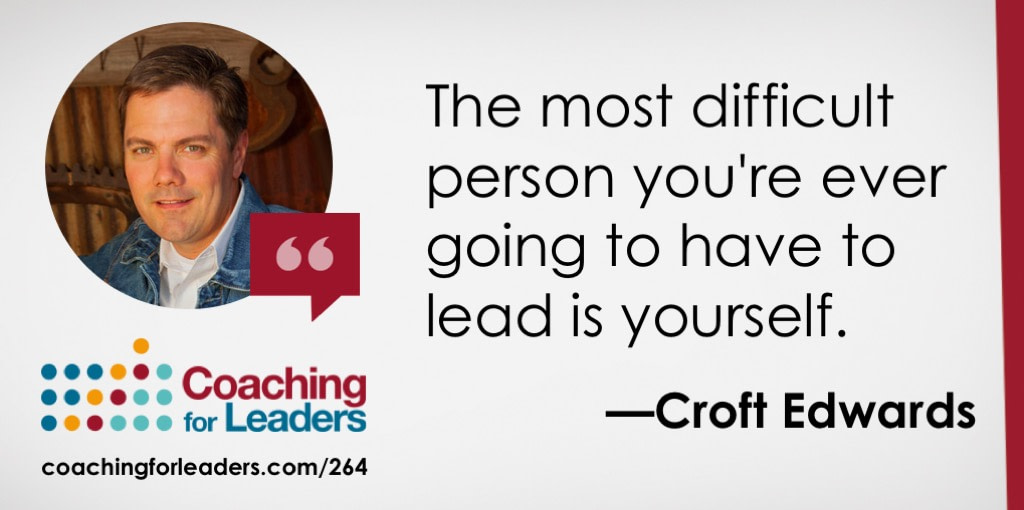 Monday's Episode
264: How to Get Into Leadership Flow: Croft Edwards (web) (LinkedIn) (Twitter) is a Master Certified Coach who has been serving an array of clients from energy and mining, to forestry and aviation, since 2000. He joined me on this week's episode to teach us how to find leadership flow.
Key Points
Much of leaders' effectiveness has to do with their level of self-mastery.
Flow is a combination of physical, mental, and emotional factors.
We learn our behaviors from others, and they learn their behaviors from us.
Resource Mentioned
Related Episodes
CFL204: Things Mentally Strong People Don't Do
CFL218: Increase Your Capacity Zone
CFL232: How to Manage Your Inner Critic
Quick Reads
How to Motivate Your Employees: Give Them Compliments and Pizza: Not the first or last article I've read about trouble with cash incentives. Key point: "What matters most to you when you are actually doing a task turns out to be pretty different from what you assume will matter."
5 Things Every Employee Should Ask Their CEO: If you're the top person in your organization, do you know the answers to these questions?
What I Learned From a Stroke at 26: Make Time to Untangle: For several years, I taught graduate leadership classes to nurses. I was surprised at the time to learn that more young people are having strokes.
My Secret Eight-Dollar Guaranteed Flight Upgrade Trick: Not like the other articles you've read on this topic. The one would make even Dale Carnegie proud.
Listening to Your Commitments: How to tune your ears (and words) to advance the next action.
Books to Improve Your General Knowledge of the World: Lots of great ones here, if you're looking for the next good read.
Audio
The All-Star Leader Podcast: Daniel Hare recently interviewed me on the history of Coaching for Leaders, my leadership philosophy, our Mastermind organization, and much more.