Earlier this week, I interviewed John Kotter, the world's foremost expert on leading change, on his new book* (our chat will air next month). I had all my questions ready on leadership, management, change, and organizational behavior.
And The Lion King.
That's because his new book is a fable about a meerkat family and, when I think of meerkats, what else would I be thinking about other than Timon and Pumbaa?
I place the blame for this distraction squarely at the feet of David Nihill, who encouraged all of us to be thinking about how we can use humor strategically to engage people. Find details below and much more to keep you on your toes.
This Week's Show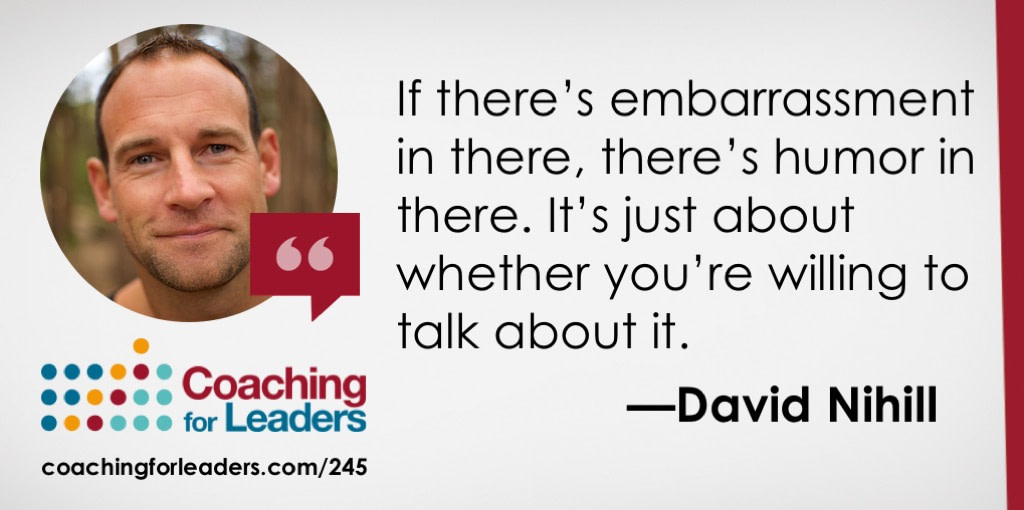 245: How to Engage With Humor
It turns out we can learn how to be funny and David Nihill shows us exactly how. Author of the book Do You Talk Funny?*, David walked us through several steps on this week's episode that just about anybody can follow to better engage people.
If you haven't considered how to use humor in communications, you may be missing out. Find the notes and details on the Coaching for Leaders website.
Quick Reads
6 Myths About Empowering Employees: Great follow up from David Marquet after his recent appearance on the podcast. I especially like what he says about myth #5 in this article — so many of us (and our organizations) fall victim to this.
Speaking Without Notes: I can't help but feel a bit of disappointment whenever I see a speaker come to the front of the room with pages of notes. This article by Chris Lesa perfectly captures why — and also a few fundamental ways to do better.
Screw Finding Your Passion: I don't typically pass along articles with colorful language, but the message here is too spot on not to share. If you're struggling with finding your passion, this might be just what you need.
Why it Feels So Good to Read About This Princeton Professor's Failures: When Michael Bungay Stanier was on the show recently, he mentioned that he doesn't trust professional bios that don't say something about failures. A Princeton professor took this to a whole new level. (Note to self: time to for a bio update.)
Audio
Your Career Path is Not a Straight Line*: Scott Barlow is the host of the popular show, Happen to Your Career. I don't speak a ton about my own career on Coaching for Leaders — after all, the show is about you, not me. That said, for those who are interested in knowing more about all the wrong turns I've taken (and how they helped), you'll find our chat valuable.
From My Desk
How to Get Buy-In For Your New Initiative: Here's the most common mistakes I see clients making when trying to get buy-in for a new initiative — and how you can do better.
Just For Fun
Put Down the Duckie: Whenever there's a key concept to get across, PBS finds a way. Five minutes of inspiration on how we all need to get out of our comfort zones.