If you rarely miss an email the moment it comes in and have been considering the Coaching for Leaders Mastermind, you may still have a chance to catch us for the FREE Interactive Mastermind session in just two hours. Register now for today's 7pm Eastern / 4pm Pacific session.
Otherwise, register here and join us live tomorrow (Thursday) for the final, FREE Mastermind session at 12pm Eastern / 9am Pacific session.
Applications for newly opened seats in the Coaching for Leaders Mastermind close this Friday, April 1st, 2016. Now, onto your weekly leadership guide…
---
This Week's Show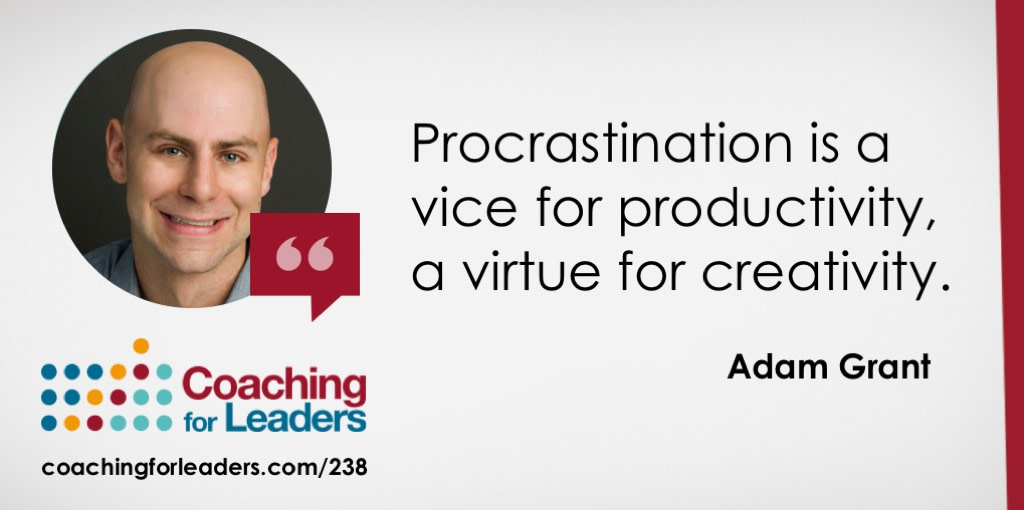 238: How to Be a Non-Conformist, with Adam Grant
Adam Grant is one of the top leadership researchers in the world at the highest-rated professor at the Wharton Business School. He joined me on this week's show to discuss how to be a non-conformist.
Check out his new book Originals* and his previous bestseller, Give and Take*. You can find the show notes and audio on the Coaching for Leaders site.
---
Fast Reads
If you only read the books that everyone else is reading, you can only think what everyone else is thinking: The title sums it up pretty well. This one got me thinking about the value of classic books and how to bring more timeless wisdom into the podcast. What do you think?
You Need Better Friends: Not the title of this article by Seth Godin, but the core message if you find yourself facing the obstacles he describes. This is key too: "A common trait among successful people is that they have friends who expect them to move on up."
What I Learned (the Hard Way) About Becoming a Full-time Writer: A lot of creative people expect a big break at some point. Secretly, so do a lot of us in a lot of careers. The money line in this article? "It's not the one big break. It's the fifty big breaks."
End With the Beginning in Mind: Listener Steve Ko wrote to me recently and shared his blog. I happened to page through a few recent articles and this one caught my eye. The idea of finishing strong resonates with me a lot.
Longer Reads
If You Are Going it Alone, You Are Missing Out: I've tried to go it alone at times in my life and career. It's almost always been a foolish move — and this article perfectly captures why.
How People Learn to Become Resilient: There's been a lot more written on this in recent years, and this article details the research and findings. One key takeaway is that resiliency has a lot to do with how you frame your thinking about life events. Plus, this good news: it's learnable.
The Time-Consuming Activities That Stall Women's Careers: Researchers look for the pattens of how women approach their work differently than men. Those differences help in some respects, but hurt in others. The three specific actions at the bottom of this article are especially practical for women who feel like the way they approach work may not be, errr, working.
Audio
Strength Through Habits: Big changes in our leadership skills often start with small changes ourselves. You've heard habits discussed on the podcast before and this conversation that Bonni recorded with Natalie Houston provides even more insight on how to approach habits strategically.
Video
Should you live for your résumé…or your eulogy?: Conversation about mission statements and eulogies came up this week in the Coaching for Leaders Mastermind. Here's five minutes of perspective that may help a lot of us.
Just For Fun
These Unlucky People Have Names That Break Computers: I try to remind myself when I'm having a bad day that things could always be worse. After all, my last name could be "Null."