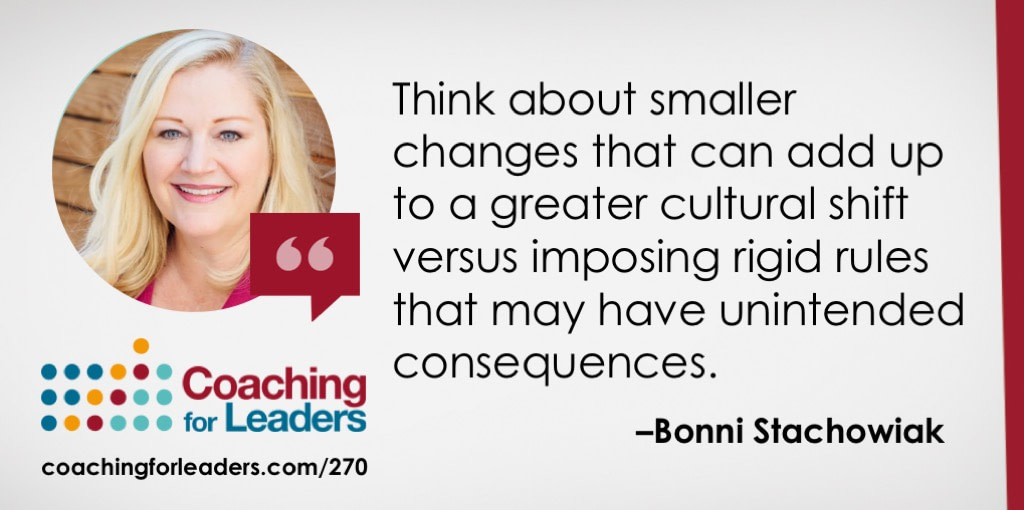 Monday's Episode
270: Handling Intimidation and More Questions: This first Monday of the month, Bonni (web) (LinkedIn) joined me to respond to questions from our listening community.
Questions
Joshua asked about creating a genuine connection with the team he leads.
Warren is wondering what he can do to create a culture where people bring solutions instead of problems.
Brian asked about handling an employee who is dominant and intimidating.
Mark asked about how to handle degrading comments in the workplace.
Warren asked about the best strategies to encourage senior employees to embrace sharing their knowledge with newer employees.
Resources Mentioned
I Want to Coach People Well on the Coaching for Leaders website.
Related Episodes
CFL32: The Best Way to Do On-the-Job Training
CFL190: How to Improve Your Coaching Skills with Tom Henschel
CFL257: How to Manage Former Peers
Quick Reads
The Art of the Awkward 1:1: This may challenge you to rethink how you're approaching 1:1 meetings with employees.
We Drop People Who Give Us Critical Feedback: Research shows this is what many people do. If you want to get better at this, this past episode on how to get way better at accepting feedback will help.
It Took Sheryl Sandberg Exactly 2 Sentences to Give the Best Career Advice You'll Hear Today: Speaking of feedback, here's what Sheryl Sandberg said recently to employees at Airbnb.
Audio
Under Executive Questioning: Tons of lessons about mindset and professional development in this month's episode of The Look & Sound of Leadership by my friend Tom Henschel. You'll find it especially helpful if you regularly brief senior leaders.
Books
Predictably Irrational: The Hidden Forces That Shape Our Decisions: I had the pleasure of getting introduced to Dan Ariely recently and it reminded me of his book. Reading this influenced my thinking on marketing and pricing in many positive ways.
From My Desk
9 Rules for Discussing Election Results at Work: The U.S. election didn't go the way most people thought. Here's how to approach it at work.
Just For Fun
Grandpa Has Been Waiting 81 Years For This: Saw lots of touching moments coming out of Chicago this past week, but this one was my favorite.