I'm reminded often that great leaders find ways to master themselves, while inspiring others to do the same. This week's guide and podcast episode capture the essence of both.
Speaking of mastering yourself, I've just announced that I'm accepting applications for new spaces in the Coaching for Leaders Mastermind. Applications close April 1st, 2016.
This Week's Show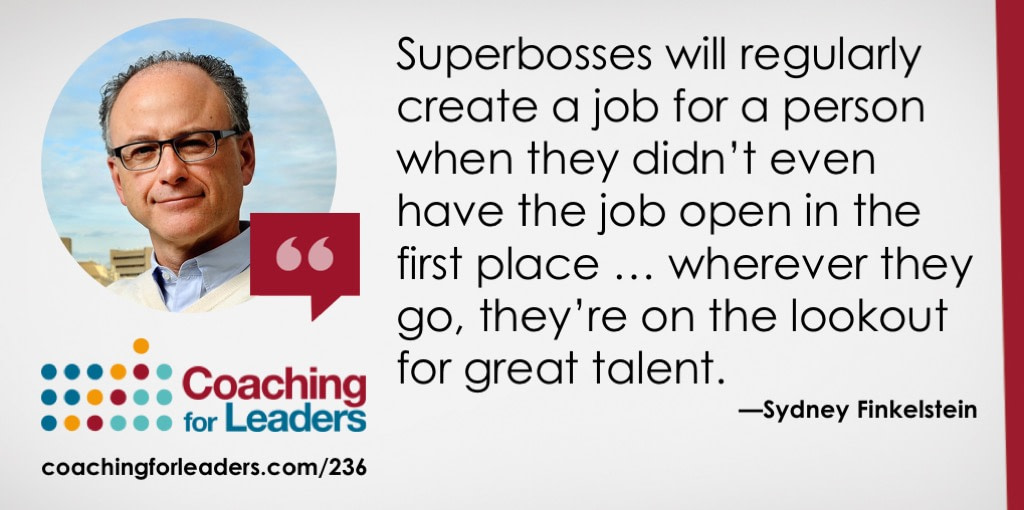 236: How Superbosses Master the Flow of Talent
Sydney Finkelstein, author of the new book Superbosses: How Exceptional Leaders Master the Flow of Talent*, was on the show this week to highlight his research on superbosses and how their leadership develops talent in organizations and beyond.
The shows notes are posted on the website.
Fast Reads
Which Industries Have The Most Women In Senior Management?: Less interesting to me in this infographic is the industries where female managers are most prevalent (education and social services won't surprise anyone). More interesting is how low even the highest numbers still are.
Actually, You Should Check Email First Thing in the Morning: The "don't check email first thing in the morning" advice has always struck me as well-intended, but not practical for a lot of us. I like past guest Dorie Clark's better advice of handling email in sprints. That's working well for me these days too.
Three Little Words That Will Change Your Life Forever: My friend and past guest Beth Buelow posted this article on LinkedIn last week — and 300K people saw it. I like how she zeros in on "the fixer" as a comfort zone for a lot of us.
Longer Reads
How To Negotiate Salary: 5 Secrets Backed By Research: Worth a few minutes to review, especially if you find yourself about to negotiate for something.
Why You Keep Signing Your Future Self Up for Stuff You Don't Actually Want to Do: The headline says it all. Once you know the answer, the research suggests you'll stop doing it so much.
What Slack is doing to our offices — and our minds: Virtually every week, I hear about an organization or individual I know that's started using Slack. I doubt most people think through all the implications of using new communication tools. This article objectively nails the good and the bad.
Audio
Why Customer Complaints are a Valuable Business Asset: Brian Clark interviews Jay Baer on this new book, Hug Your Haters*. If your organization is working on customer service issues, you should probably listen. If your organization is already great at customer service, you should definitely listen.
Walking The Beat In Mr. Rogers' Neighborhood: The best leaders have a way of meeting people where they are — and then inspiring them to go further than they ever thought possible. Fred Rogers was one of the best. If you need a reminder of what's right with the world, these three minutes will do it.
Just For Fun
What's the Secret to Still Dancing at 106?: That's the question 106-year-old Virginia McLaurin got from the President of the United States. The video of the moment went viral.