The ability to get people to read what you write online is essential. Most organizations rely heavily on email for both internal and external communication.
In addition, many professionals rely on their audience to read their online proposals, webinar slide decks, or websites. In this guide, how to get people to read your stuff more consistently.
Half of You Won't See This
How many unread books do you have on your shelf? How about half-read?
Turns out that our online reading habits aren't any better — and probably worse.
Take this leadership guide you're reading. My mail service tells me that half of my readers (each of whom have asked to received this) don't even open this email on any given week.
That's actually an amazing number — the average open rate in my industry is 18% (no joke).
The statistics back up what a challenge most of us have to get attention for what we write. Here's a creative article from Farhad Manjoo that nails the data on this.
Give Massive Attention to Subject Lines
A horrible subject line for this email would have been "Dave's Weekly Leadership Guide." That subject line is all about me and doesn't say what you get by reading this.
Your subject line should make it absolutely clear to the reader what result they get if they read your stuff. That's making utility clear. In his book How to Sell is Human*, Daniel Pink reports that utility in subject lines is the best strategy to get your stuff read when people have heavy mail email volumes (and who doesn't).
Instead of an email that says "Report" as the subject line, create a subject that is clear on the utility your reader gets. A way better one is, "Report you need for today's 2pm meeting."
Do These Three Things
I've been listening to a new podcast from the people at Copyblogger called Rough Draft. It's a daily show aimed at people who write for the web on how to do it better.
On a recent episode, Demian Farnworth outlines the three pillars of great web writing. Here they are:
Be clear
Be concise
Be compelling
Like me, you probably know a few people who almost always write extremely long emails, often unrelated to the topic at hand. I rarely read these in their entirety and, when they require a response, I handle more concise messages first.
Save complex communication for the phone or in person. When you consistently send clear, concise, and compelling messages in writing, you'll earn a reputation for the attention your writing deserves.
Show and Tell
I got a C on my first paper in high school. The comment came back from the teacher: "You're doing too much telling and not enough showing."
Nowhere is this rule broken more than on presentation slides. Almost everybody has sat through a boring presentation where someone read slides to the audience.
You can immediately get more people to pay attention to your presentations (either in person or online) with a focus on visual images and less words or data.
Expert slide designer Nancy Duarte advocates a glance test to determine if your slides are simple enough to understand. And of course, we've always got John Oliver to drive home the point.
Speaking of which, the best book I've ever read on designing slides is Duarte's slide:ology*. You'll never design the same way after reading it.
Let's Just Agree to Agree
Most of us were taught in school that longer and with bigger words was better. Fine, if you're working on a graduate thesis.
For the rest of us, the goal is to get people to read your stuff and actually understand it. Big vocabulary words and legal terminology make your writing distant and disconnected.
Always the one to bring us back to Earth, Seth Godin reminds us that even in written agreements, there's no rule that you have to be complicated.
I welcome your thoughts at this link.
---
Monday's Show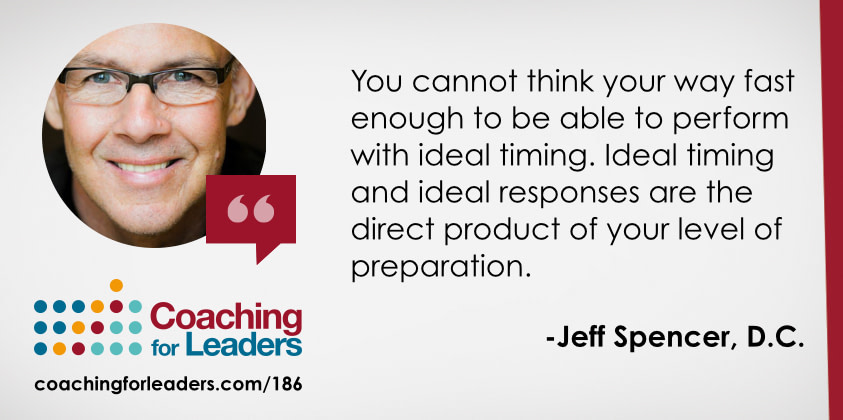 186: How to Become a Champion
Former Olympic athlete Dr. Jeff Spencer joined me on Monday's show to teach us what it takes to be a champion (hint: it's not what you think). Three people emailed me in the last two days saying they listened to the show twice.
The full audio and show notes are on the website.
Will you take 30 seconds to leave a rating or review of the Coaching for Leaders podcast on iTunes? Thanks in advance — it helps a lot more people benefit from the show.