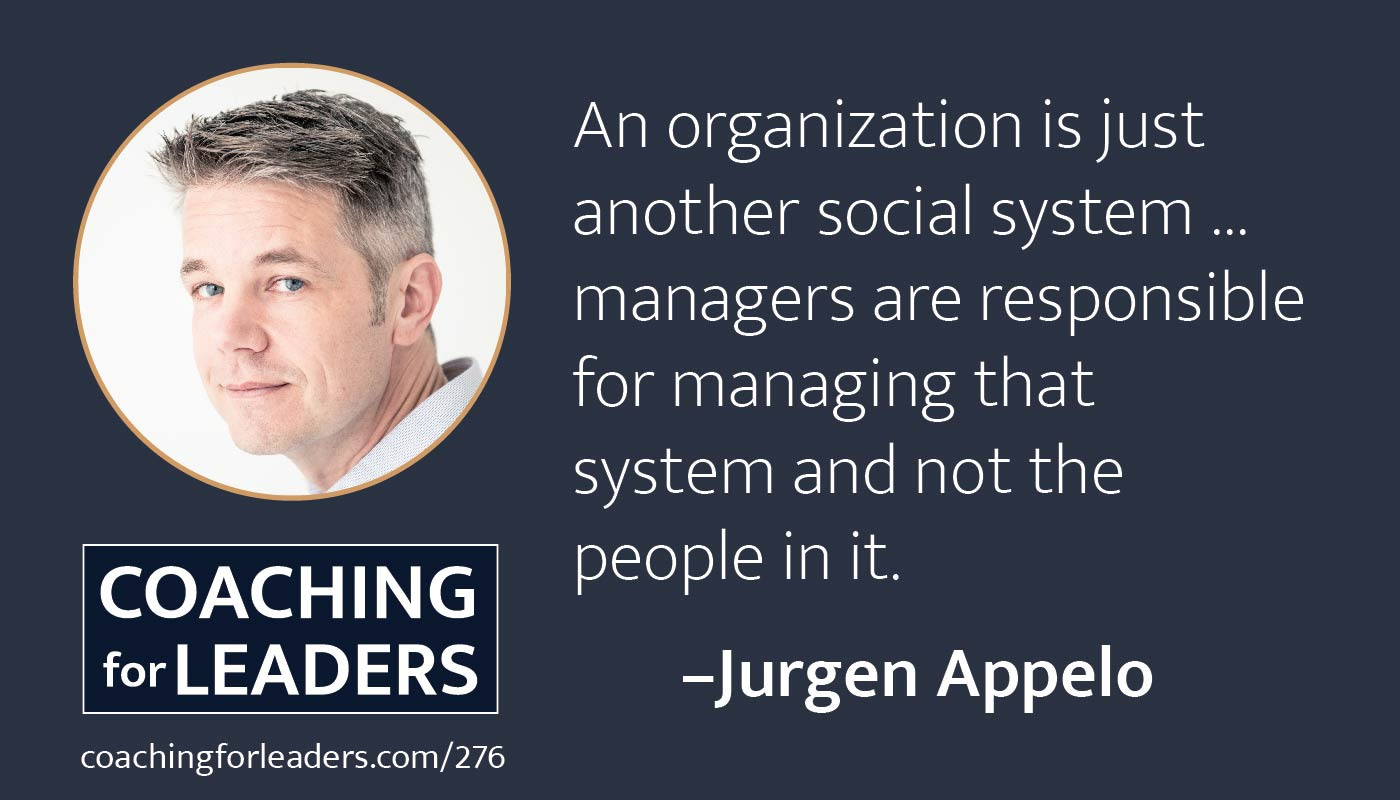 Monday's Episode
276: Employee Engagement With Management 3.0: Jurgen Appelo joined me on this week's show to discuss the lessons from his bestselling agile management book, Management 3.0*, and the proactive follow-up book, Managing for Happiness*.
Key Points
Not all things work for each company. You must experiment to see what works for your company culture.
Incentives should be tangible.
Managers should only have to manage the business systems, and the employees should be able to manage themselves.
You are learning the most when half your experiments fail.
Figure out how to incentivize experimentation, not just successful results.
Resources Mentioned
Related Episodes
CFL122: How To Create Joy At Work with Richard Sheridan of Menlo Innovations and Joy, Inc.
CFL223: Start With Why featuring Simon Sinek
CFL249: How to Succeed with Leadership and Management, with John Kotter
New MemberCast
MemberCast 1: How to Turn Goals Into Results: I announced this week the brand new Coaching for Leaders MemberCast, airing monthly. In this first episode, Academy member Mike Burch of Speedway Motorsports discusses how to turn goals into results and teaches us how he's read 200 books this year (no joke).
You'll need your FREE membership on the Coaching for Leaders website to access the monthly MemberCast. Here's the link to activate your FREE account.
Quick Reads
The Wheel of Life Work: My friend Tim Stringer put together this wheel as a way to graphically represent each area of our lives. Bonni and I have both used a wheel like this before for planning — and may help you get 2017 started.
My Updated Personal Knowledge Management System: This article from Bonni details the framework for how she handles all the information and data coming her way. It's a good follow-up to the Coaching for Leaders episode on having a personal knowledge management system.
The Most Important Skill in Leadership: I like this article from listener Raj Menon (and not just because he said something nice about the show). He zeros in on a mindset that's key for effective leaders: put attention towards your strengths, rather than trying to correct your weaknesses.
Trust: does it impact team performance… or not?: "Yes" is the short answer. A new meta-analysis shows a relationship between trust and the achievement of team goals.
Video
The 7 Habits of Highly Effective People: Excellent 6-minute overview of one of my two favorite books of all time on self-development. A great starting point for Covey's classic book* (and here's my other favorite*).