While your medical professional might not literally start their advice with, "An apple a day keeps the doctor away," we hear about the virtues of preparation and prevention often.
Whether it's health, insurance, automobile service, or taxes, most of us discover (albeit sometimes kicking and screaming) that paying a somewhat reasonable amount today generally prevents lots of unreasonable expenses tomorrow.
In this guide, how today's investment leads to tomorrow's returns.
Maker or Manager?
I was listening to a podcast a few weeks ago where the distinction was made between a manager's schedule and a maker's schedule.
Managers often work through days that are scripted in one-hour meeting blocks. In contrast, makers block large chunks of their days to build stuff.
Both are valuable ways to frame scheduling, but knowing which schedule people are running and how to be intentional about that is work worth doing. After all, one reason programmers dislike meetings so much is that they're on a different type of schedule from other people.
Book It
Before kids, Bonni and I attended a monthly book club. We of course ended up reading books that I would never have read on my own — and some that I didn't care for.
It took me a bit to realize that this was actually a benefit. Part of the reason for joining a book club is to expose yourself to ideas, dialogue, and viewpoints that you'd normally never get on your own.
There's discussion now in the Coaching for Leaders Mastermind about starting a book club. That's why last week's article in Harvard Business Review caught my attention: Why Businesspeople Should Join Book Clubs.
Before and After
When I started my training career, the vast majority of my time was spent in the classroom as a instructor or facilitator.
After teaching a recent class, I was surprised to discover in my records that it had been several years since I had been the lead instructor on a client project. Mind you, I'm involved in multiple projects all the time, but these days my work is on the planning and follow-up of training delivery.
I've discovered there is as much (if not more) work involved in preparation and follow-up as there is in the events themselves. That's why I loved Seth Godin's advice to spend half as much time as you expect on the thing that most people do, and far more time on…the stuff that actually matters.
Results Over Effort
Nothing beats the feeling accomplishment after a long day's work when everything gets checked off the task list.
Except when the tasks weren't really that important to begin with.
Someone wrote to me recently on a project were working together and made a passing comment that, "It's the effort that counts." I emailed back:
Actually, the older I get, I've discovered that's generally not true.
It's worth consideration that nobody cares how hard you work.
Monday's Show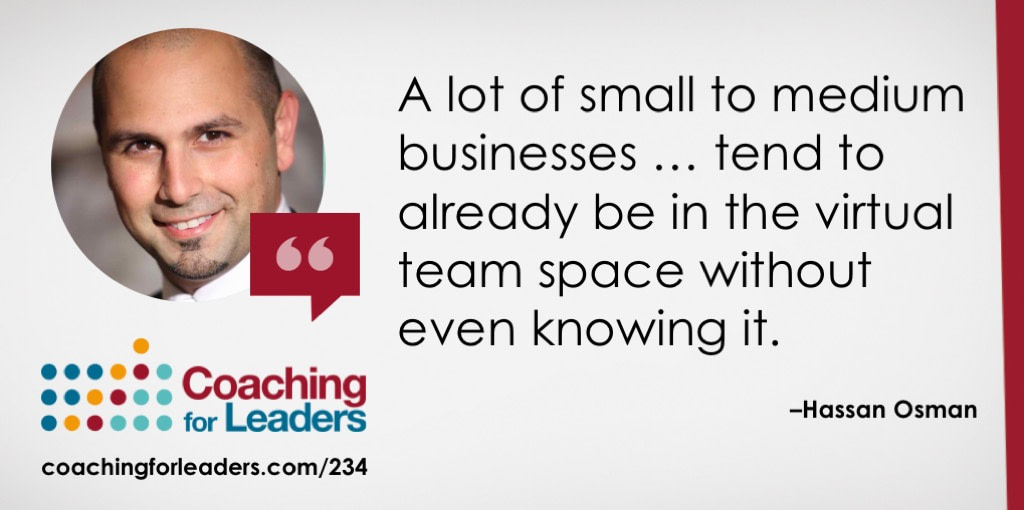 234: Start Influencing Virtual Teams
Speaking on planning, many organizations are either thinking about doing more virtually — or wondering how to begin that journey. Hassan Osman is an expert on influencing virtual teams and joined me on this week's podcast.
In addition to a great conversation, Hassan was very gracious to offer our community a free copy of his book, Influencing Virtual Teams, which is for sale on Amazon. You can find more detail on the Coaching for Leaders website.