I changed the name of this podcast in 2012.
It was called "Coaching Skills for Leaders" for the first six months. For a lot of reasons (including getting a web domain name that matched) I shortened the title.
But my intent to help leaders become better coaches has not wavered. In today's guide, resources that will help you coach better.
Thank You, Madam Toastmaster
The recommendation to consider Toastmasters International for public speaking skills came up on a recent show. I was a Toastmaster for five years and it did a lot for my speaking and self-confidence.
One task that every Toastmaster learns is how to evaluate another person's speech. I discovered that the best evaluators would zero in on just one of two things from a speech to improve on, try to see if from the speaker's perspective, and gently suggest a change.
Evaluators that weren't able to see things from the speaker's perspective rarely seemed to elicit results.
Coaching tip #1: Earn trust to coach by looking at things from the other person's point of view.
Too Much Won't Get You There
One of the best books I ever read on coaching was What Got You Here Won't Get You There* by top executive coach, Marshall Goldsmith.
Ironically, it's not a book about coaching — but Goldsmith shares lots about the strategy he uses to help top leaders change their behavior. One of his cardinal rules is to only focus on 1-2 areas at a time during coaching.
If top business leaders don't do well focusing on more than 1-2 things as a time, it's hard to imagine how anyone can.
Coaching tip #2: Stick with one area of focus for coaching until both of you are seeing results.
The First 75%
Jim Thompson's book Positive Coaching* was required reading for my first job. While the book about coaching kids' sports teams, the coaching lessons are applicable to the workplace too.
A key lesson from this book I've aimed for at every step of my career is Thompson's 75-25 rule. 75% positive reinforcement and 25% redirection. It's as good for adults as it is for kids.
I also spoke extensively about this rules and how to use it in the workplace on this episode of the Carnegie Coach podcast.
Coaching tip #3: Earn trust by recognizing the best in others.
Let's Talk Again
While a management conversation may happen in a single interaction, coaching is often an ongoing dialogue to understand where the other party is at, meet them there, and then help guide them to a different place — together.
Almost never does that happen in a single conversation. That's why I often find myself putting reminders in my task list to follow-up on past conversations, weeks or months later.
Harvard Business Review's perspective is helpful here, because the practical reality is that your coaching is only as good as your follow-up skills.
Coaching tip #4: Have a system for keeping yourself accountable to have the second, third, and forth coaching conversations.
The Look & Sound of Nature
This week's podcast with Tom Henschel was an expansion on a show he aired earlier this month on his podcast. We went into a lot more detail on our chat (see below) but he shares many of the lessons in a much more concise lesson, including his great analogy of the ocean and the forest from his daughter. Check it out.
Coaching tip #5: Start listening to the Look & Sound of Leadership podcast.
I welcome your thoughts and comments.
Monday's Show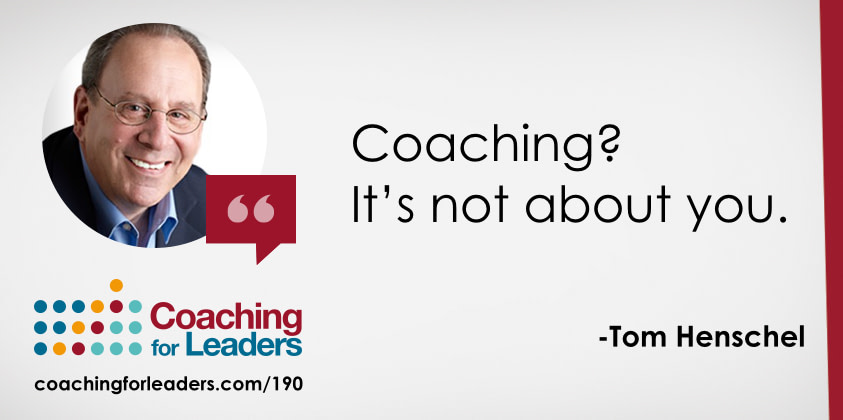 190: How to Improve Your Coaching Skills with Tom Henschel
A number of people have already mentioned how much they enjoyed Tom Henschel's perspective on improving your coaching skills on this week's show. In particular, the two analogies that he shared from his daughter Julia will help you frame how to best help people in a coaching dialogue.
I also found Tom's practical thoughts on balancing management responsibilities with coaching to be reassuring for leaders who've struggled with this in the past (as have I). The full audio and notes from our chat are on the Coaching for Leaders site.