Many in Coaching for Leaders community share one of my continual struggles:
So many books. So little time.
Now that you've worked through all the Black Friday and Cyber Monday emails of the last week, here's your excuse to spend a little something on yourself.
Leaders love to learn and reading is one of the best ways to do that regularly. I'm always up for something that will help me learn faster and organize what I'm getting from my reading.
I've used all the services/products below, and I can confidently recommended them if you, like me, are always looking for the next hack to maximize what you get from reading.
Audible
I've always loved audio books, but I avoided them for awhile because I wanted to be able to highlight and takes notes on valuable content to share with others.
I finally realized that being stubborn about that was keeping me from reading at all. So, awhile back I jumped on the Audible bandwagon. Little did I know that the Audible app allowed you to mark bookmarks when listening to an audio book — and more recently, even going between reading and listening and keeping them all in sync.
I can't always keep up with the book credits I get on my Audible account, so I sometimes put my account on hold (a nice feature). That said, it's now become my primary method for consuming books.
Have a bit of extra time over the holidays to do some reading? Use this link to get a free, 30-day trial and two free audio books*.
Kindle
I'm a big fan of my iPad* and often use it after the kids are in bed. However, it's easy to get distracted with the news of the day, the email that just came in, and social media.
Earlier this year, I bought a Kindle Voyage* for Bonni as a gift. She's been tearing though books at a crazy pace on it. There's a lot to be said for having a device dedicated only to reading — and that's also built for that single purpose.
I had my own Kindle awhile back — but gone are the days when Kindles were as expensive (and heavy) as iPads. If I didn't think it would be overkill to add yet another device in my life, I'd probably get one of these new ones too. If you're looking for a dedicate, digital reading experience, check out what Amazon is doing with it current line of Kindles*.
Bonus tip: No physical Kindle is required to play in the broad ecosystem Amazon has set up with digital books. Even though I don't have a Kindle, I still buy all my ebooks from Amazon and simply use the free Kindle app to sync my reading between my iPhone, iPad, and Mac.
Blinkist
I recently discovered Blinkist, thanks to a few members in the Coaching for Leaders Mastermind. Blinkist transforms the most popular nonfiction books into what they call "15-minute power packs" so you can get all the key ideas of the most powerful books in just a few minutes.
The temptation with a service like this is to simply read the book summary and never get into the actual book. However, one of our Mastermind members reports that he actually uses Blinkist to help determine which books to buy, making better overall use of his time and reading.
I started my own membership last month and have already used Blinkist to screen a few books for people coming on the podcast. They're running a promotion right now to sign up for an account and get another account free for someone else. Here's your chance to get a check out a great service and be a hero to another book lover*.
FeedBin
Awhile back, Google abandoned Google Reader. A lot of us wondered how we would consume content on the web via RSS (here's what RSS is if you're not already familiar).
I tried out one of the free services that emerged and was underwhelmed. The user interface was complicated and it seemed that some RSS feeds simply never worked. When I starting having difficultly subscribing to one of our client's feeds, I knew I needed something better.
While it's a shift to pay for something many of us used to get for free, I'm also a big believer in supporting the people who make great stuff. FeedBin has emerged as a key player in this space and, as of last month, is now the underlying platform for all my RSS feeds.
If I don't want to miss what an individual or organization posts, I subscribe with FeedBin. Then, I use Mr. Reader* on my iPad, Unread* on my iPhone, and their web interface on my computer. All of them connect directly with your FeedBin account as the backend RSS service. For $3/month or $30/year, it's worth it to me to get it right.
Pinboard
It's easy to come back to the content in a great book since it's either on the shelf, in an online account, or at the very least at the library.
Reading on the web is different. Attempting to find a great article a year or two later is an obstacle unless you've got a good system to bookmark it. It's hard to remember what an article was called or where you saw it. Even if you save the link, what if it's removed from the site later?
That's where Pinboard comes in. You can set up a free account with Pinboard that allows you to bookmark everything you find on the web as you read it (they have web browser extensions to make this easy).
You can use it free, but if you're willing to part with $11 a year, Pinboard will also save a copy of everything you bookmark, allow you to do full-text searches of every article in your account, and archive full copies of the articles (should the original website ever take it down or close).
Want to see it in action? I set my Pinboard account for public access so anybody can view it (you can make your own account private, of course). Here's a link to the archive listing every article I've ever featured in this weekly guide.
Monday's Show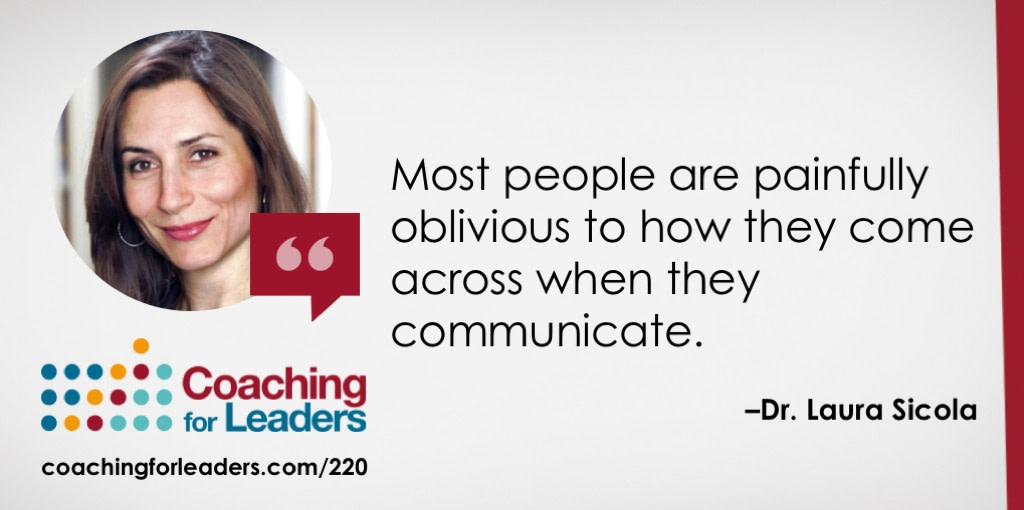 220: How to Find the Right Voice
What you say is critical — and how you say it makes the difference in how that message lands with your audience. That's why I'm glad Dr. Laura Sicola accepted my invitation to appear on Coaching for Leaders this week.
Laura walked us through the strategies she uses with clients to find their voice, and also provided our community with a free copy of the workbook that she normally includes in paid courses. Here's the link to download her workbook on Discovering Your Leadership Voice. You can find more quotes from Laura and the full audio on the Coaching for Leaders website.