I've had a number of conversations in the past few days on areas where leaders I work with are struggling. Some of these chats happened with future podcast guests, some with clients, and some within the Coaching for Leaders Mastermind.
All of the conversations resulted in either great leadership books being mentioned by me or others. I distilled these conversations down to the five books that came up most prominently in these chats, and most importantly, a key lesson from each:
Lesson 1: Give Attention to the Best Performers
Conventional wisdom says that managers should spend a lot of time helping people develop the skills they lack. As such, it follows that the person who is most underperforming in the organization should get the most attention from management.
"Wrong" says the Gallup organization.
And not only wrong in their opinion, but wrong because some of their most comprehensive research of managers shows clear evidence of this error.
In their classic book First Break All the Rules*, the Gallup organization demonstrates that the best managers spend the vast majority of their time with their top performers, helping them get better.
And with those top performance, they focus on helping them refine and further grow their strengths, not get better at weaknesses.
I know several leaders who, once internalizing this message from Gallup — focusing time on top performers' strengths vs. your poor performers' weaknesses — became vastly more effective leaders.
Lesson 2: Do Only What You're Best At
Speaking of strengths, StregthsFinder* has been one of the most popular models for people to zero in on what they are best at. It's a must-read for anyone who wants to align with their core strengths.
But that knowledge is of little value without the mental model you need on how to approach your strengths. On that point, an earlier book is even better at making the case.
Soar With Your Strengths* is a book you can read in one sitting. The messages of the book are simple (but not easy):
Figure out the things you are really good at.
Spend as much time as possible doing those things.
Outsource everything else that you can.
This is why Bonni or I don't do most of the cleaning in our house. Yes, we both have the skills to do it, but many other people can do it better and more efficiently (and we've hired some of them who do). Our own time is better spent doing things we're uniquely gifted at.
Lesson 3: Common Team Problems Can Be Avoided
Almost every team goes through growing pains and most every team hits predicable obstacles than can be lessened with the right planning, strategy, and communication.
Those realities are brilliantly addressed in the book The Five Dysfunctions of a Team*. Almost everyone who leads a team (or is a key member of a team) will gain great value from this model. It's simple, accessible, and gives you the tools and confidence to create better teamwork in your organization.
It's the first book I recommend to people leading teams and appears on the list of the Top 10 Leadership Books That Will Help You Get Better Results From Others you received when subscribing to this leadership guide.
Lesson 4: Have a System
As long as people are trying to get things done in the world, there will be conversation about the best time management system to use. I've used lots of them over years and taken value from many of them.
Yet, there's no single system that's as comprehensive as Getting Things Done*. David Allen gets to the heart of what time management is and isn't — and has created and refined a model that many people find accessible and practical.
If you're looking for your system that will get you started on organizing your life, while allowing for the really important practice of daydreaming (yes, David Allen believes that too), reading Getting Things Done* is the place to start.
Lesson 5: Say No
If you say yes to a new commitment, you are saying no to anything else in your life that you might have done with the time that new commitment will take.
Stop and think about that for a second.
The people who really get that principle and much more careful with what they say yes to — so they can place their time and energy into the things that are really essential for results, their careers, and their happiness.
The book that will get your mind in the place it needs to be to make that happen is Essentialism* by Greg McKeown. After reading that book, I say no to new commitments a lot more than I used to.
Monday's Show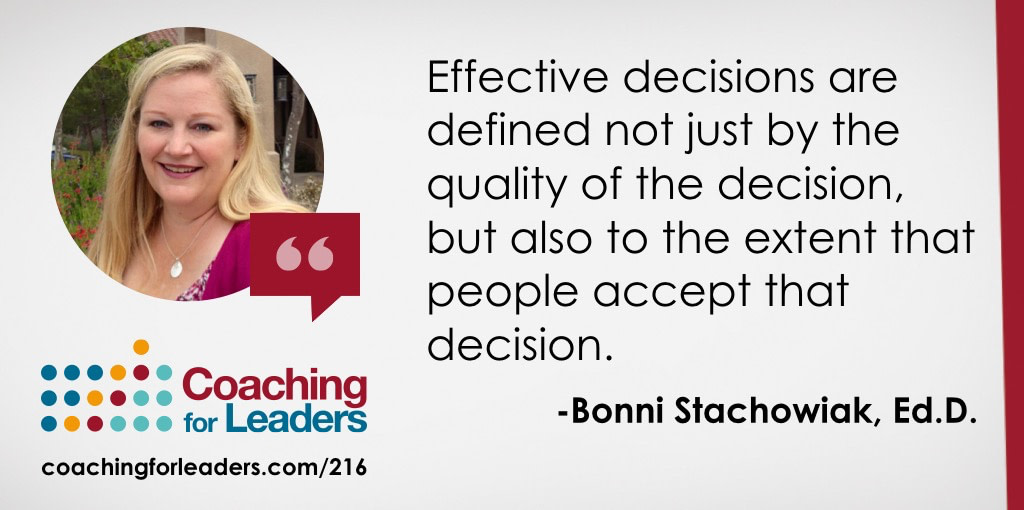 216: How to Combat Repetitive Tasks and More Questions
This week was the first Monday of the month, so Bonni and I responded to questions from the Coaching for Leaders community. This month, we addressed repetitive tasks, influencing people with more experience, handing hostile audiences, and creating interactive presentations.
The audio and show notes with all the resources we mentioned are posted on the Coaching for Leaders website. If you want to submit a question to use for consideration on a future Q&A show, check out this link.