I happened to be scrolling through some of my favorite TED talks this past week, and was reminded of several past Coaching for Leaders guests. I got to wondering if there had been enough people I'd interviewed who had done TED talks to justify an entire leadership guide.
The answer? Almost.
Here are four TED talks (all of which I love) from past Coaching for Leaders guests — plus a bonus one from someone I hope to have on soon.
Chris Hadfield
At lot of people discovered Chris Hadfield when he was circling the globe as the commander of the International Space Station. He was the first astronaut to substantially leverage social media in orbit — and attracted a following of millions.
When he wasn't playing David Bowie songs or taking photographs, Hadfield was focused on the serious work of navigating a dangerous work environment. Along the way, he discovered the distinction between fear and danger.
He was my guest on episode 149 and we spoke about his book, An Astronaut's Guide to Life on Earth*. In his TED talk, he captured the awe of spaceflight and the lessons for all of us on fear by presenting what he learned from going blind in space.
Susan Cain
As someone who certainly relates to introversion, I was intrigued by the title of Susan Cain's book when I first heard it: Quiet: The Power of Introverts in a World That Can't Stop Talking*.
However, it was her TED talk that originally motivated me to reach out. In episode 44, she explains how those of us who have a preference for introversion are often misunderstood by colleagues and organizations.
Her TED talk went viral and, in many ways, sparked a movement of people who are are beginning to appreciate the power of introverts.
Barry Schwartz
I've found that a major (and continual) struggle of leadership is to make decisions when policies and procedures could never anticipate situations.
There's an art to navigating the grey areas. One word often comes up at these times: wisdom.
That's why I invited Barry Schwartz onto episode 92, an expert on how to apply practical wisdom. His TED talk on our loss of wisdom will help you appreciate what you can do to navigate those difficult times.
Daniel Pink
If you've followed Coaching for Leaders for any length of time, you already know that I'm a big fan of Daniel Pink. Moreso than any other author I know of, Pink has a passion for helping people understand work in the 21st century — and delivers a research-based message in practical ways.
He was on episode 84 to talk about his newest book, To Sell is Human* — a must read for anyone who influences people in the workplace (i.e. almost all of us). However, it was the book Drive* that first caught my attention.
Pink's TED talk highlights the research he presents in Drive as he unpacks the puzzle of motivation. It's a must-watch for any leader.
Bonus: Simon Sinek
Simon Sinek hasn't been on Coaching for Leaders, but I've received more recent requests to interview him from listeners than anyone else. (I'll be reaching out soon.)
I finally watched Sinek's original TED talk this week and it's easy to understand why so many people are captivated with his work. He presents a model that's both simple and powerful on how great leaders inspire action.
A client mentioned recently that their company is looking to his work as a model for strategy. It's worth you checking out too.
Monday's Show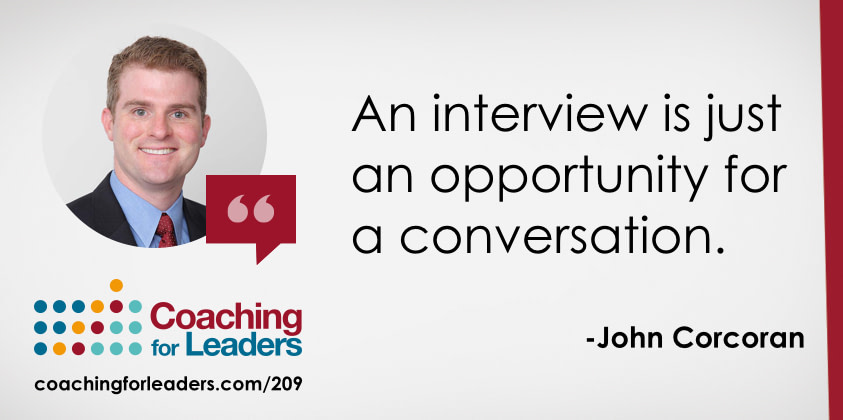 209: Get ROI From Professional Associations
An email came in from a listener awhile back asking about the do's and don'ts of getting involved with professional associations — and how to get ROI. I knew right away that John Corcoran was the right person to talk with.
This week, I welcomed John back to the show for his fourth appearance and we talk about tons of strategies you can use to make the most of professional associations. The full audio and show notes are posted on the Coaching for Leaders website.
Is this week's leadership guide helpful? View comments from others and add your thoughts here.