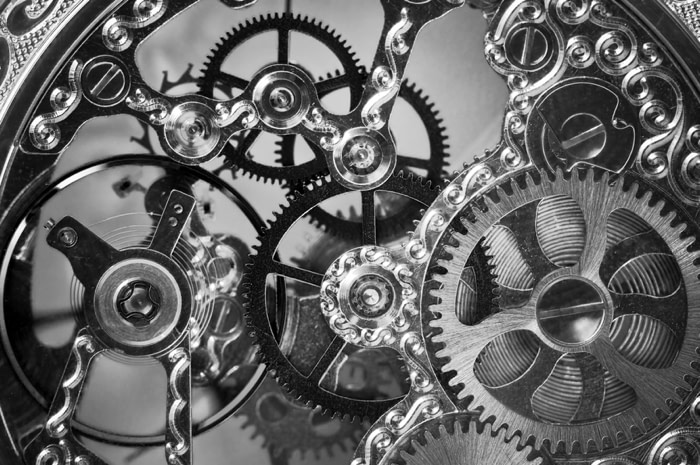 If you've been listening to Coaching for Leaders for any length of time, you know that one focus of the show is productivity — and you also know that I'm a bit of a tech geek.
Like any geek worth their stripes, I enjoy new technology, but what really gets me excited is when I can put technology to work to be noticeably more productive. These apps/services get results and will help you too.
Here are four apps that will save you time:
Every week, at least one appointment I have with someone starts with this comment:
Wow, that's a cool scheduling system you have. That must save you tons of headaches.
The system is TimeTrade and it does prevent headaches — both for me and for the person who's scheduling with me. Here's how it works:
I've set up an account with TradeTrade and it links to my existing calendar (all the major ones are supported). I've defined times people can schedule with me in the account. As soon as someone books a time, it makes the entry in my calendar and blocks the time from anyone else booking it.
All I need to do is to send the other person a link when I want to book with them.
No more of this:
Can you do Thursday at 4pm?
No, can you do 2pm?
Sorry, can't do Thursday after all. Let's push to Friday…what's good for you that day?
The other party can even reschedule automatically if something comes up. TimeTrade even reminds then of the appointment automatically and adjusts for timezones. I schedule almost all interviews and appointments this way.
There's a free version, but I heavily use some of paid features, and for $50/year it's worth it to me to never have the back and forth messages of "can you do this time?"
TimeTrade is great for scheduling with an individual, but what about when you need to find the right time for a group of people? If that's a challenge you have, Doodle is your answer.
I'm working this week to get an important meeting booked with four key people. Rather than reaching out to each person and asking them to send their availability, I simply logged into my free Doodle account and set up an event. I recorded my availability and then it provided me a link to send to everyone else.
When the other attendees receive the link, they record what times that work for them from the ones I've already defined. It creates a simple, color-coded grid. It's then easy to see and select a time that works for everyone.
Doodle has a premium service too (with features like TimeTrade) but I find the free account more than sufficient to schedule almost all group calls or meetings.
The never-ending stream of things we find (or get sent) online can easily take us off track from being productive. Almost every day, I get at least one email saying, "You'll really like this article. Check it out…"
There use to be two realistic options for how I handled this:
Stop to read it immediately (and interrupt whatever I was doing)
Stash it somewhere into a task list or email folder that I'd rarely actually get back to.
Since I actually do want to read a lot of the things people recommend, but not have it interrupt my work, Instapaper is a great solution. When I get link from someone or just come across something I want to read, I save it to Instapaper.
A free account with Instapaper gets you an account a forwarding address as well as extensions for all the major web browsers. If I find something on the web I want to read, I just click the "I" on my browser and it saves it to my account. If it's on email, I just forward it to my Instapaper email address.
Usually in the evening after kids are in bed, I pull open my iPad and open the Instapaper app and it has all my reading queued up and ready to go. I can easily share to social media from this as well. Instapaper has apps for all the popular mobile devices, plus a premium service if you want more features.
Pocket is the other "read-it-later" service that's popular these days. I've used both and prefer the typography and the link-saving features on Instapaper, but both are worth a look if you're starting from scratch.
This next one is Mac specific, but it's so worth the money that I can't help but pass it along as a recommendation (forgive me if you're not a Mac person).
Most medium to large companies have customer relationship management (CRM) systems. For the rest of us (and for personal use) it's hard to find a robust way to keep track of relationships without handing over tons of money or access to personal information.
Enter BusyContacts. This new app for the Mac keeps goes way beyond just a list of contacts. It also tracks emails you've sent to the individual in a single window. For example, if I look up a listener, it will show me a window of all the emails we've exchanged and notes from past conversations.
However, the real power feature is integration with social media. For example, if someone changes their information on Twitter, it automatically populates into my contacts. If I get an email from someone who I'm already connected with on LinkedIn, I'll know. Everything is in one place — plus it syncs everything via iCloud to all my devices.
I previously used Highrise (and we still rely on it heavily at our Dale Carnegie office) but I've now switched all my personal relationship tracking and contacts for the Coaching for Leaders community to BusyContacts — and eliminated a monthly fee for a CRM.
I welcome your thoughts at this link.
---
Monday's Show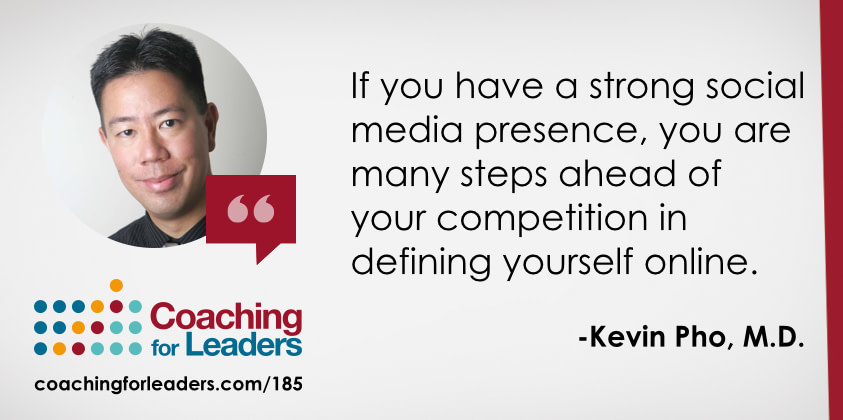 185: Establishing and Managing Online Reputations with Kevin Pho
Dr. Kevin Pho is the author of Establishing, Managing, and Protecting Your Online Reputation. He is social media's leading physician voice and he joined me on this week's show to share his wisdom on this complex topic.
One of my favorite quotes from him:
If you aren't proactive in establishing your online reputation, other sites, such as rating sites, are going to create content about you. -Kevin Pho
His book is must read if you are in healthcare and even those not in healthcare should consider it as a framework for getting started with social media. The full show notes and audio highlight the key points from our chat.