One of the most common questions I've received in my training career is:
How can I become a better presenter?
The recent chats I had on the podcast with Michael Port and Laura Sicola are great starting points for this. Plus, there are literally thousands of paths to follow to become to be a better presenter.
Here are three paths that I've seen work for many others (and used myself) that are great starting points for you, if you're ready and willing to become a better presenter in 2016 and beyond.
Depending on the time, energy, and funding you want to put forth in your efforts, one of the three options below will help you become the presenter you'd like to be:
1. The Independent Study Route
One of the first questions I ask when talking to someone about their presentation skills is:
How often are you speaking now?
If the answer is rarely or never, a good starting point is to seek a mentor within your organization and start asking for more opportunities to present (more on seeking mentors here).
A few opportunities to present in the workplace (start with things that are low-risk) and encouragement from someone who is willing to support you can go a long way. Your first goal is to build what's essential for all good presenters: confidence.
In addition, these books will help you lay the groundwork for making the most of your time in front of an audience:
Don't mistake independent study for "sitting alone in your room reading a book." Yes, that's part of it — but people who develop into good presenters also get lots of practice on their feet in front of real audiences.
Advantages:
Your organization and management team see immediate evidence of your initiative.
Go at your own pace.
Inexpensive or free.
Disadvantages:
The feedback you received may or may not be helpful (often your peers or mentors on not expert presentation coaches).
Longest development timeline.
Ultimately relies more on others to provide you with speaking opportunities.
2. The Toastmasters Route
Toastmasters International is an organization for communication and leadership development with 15,000+ clubs around the world. Their goal is to empower individuals to become more effective communicators.
I spent five years in Toastmasters early in my career and it was one of the best things I ever did for my professional development (and helped me step into a career at Dale Carnegie). I often recommend it for those who are ready to get serious about presenting better.
Clubs meet weekly or a few times a month. Visit a few times as a guest and then join if it's right for you. Once you do, they'll get you on a path to give ten speeches, normally over the course of a year or two. It's a very supportive environment and they'll help you gain the confidence you need.
My occasional beef with Toastmasters is that some members (and clubs) get a bit too focused on mechanics and rules — such as a hyper-focus on eliminating every verbal tick or following Robert's Rules of order perfectly.
Of course give attention to mechanics and rules — but stay focused on building your skills, motivating people to action through your presentations, and giving back to other members. If you do, you'll shine in Toastmasters.
Advantages:
Clear, structured development path.
Relatively inexpensive membership (Toastmasters is a non-profit).
Amazing ability to build confidence and community with others who have similar goals (my favorite part of Toastmasters was always the people).
Tons of fun opportunities through conferences and speaking contests.
Disadvantages:
Feedback you receive may be from people who don't have a lot more presentation experience than you do (this varies greatly by club — shop around).
Sometimes an over-focus on mechanics.
3. The Dale Carnegie Route
Full disclosure that I've had a decade-long career with Dale Carnegie and have instructed many courses over the years. There are lots of excellent training programs out there — many of which will help you get similar benefits.
Yet, nobody comes to it with same philosophy of human relations like Carnegie does: a fundamental foundation on the importance of relationships and the aim to make the world a better place by influencing others genuinely.
I've seen so many lives and careers change for the better over the years that I've lost count — and because Carnegie focused so intentionally on self-confidence, it helps you upgrade communication skills in virtually every area of life.
Carnegie's genius in supporting speaking skill is helping participants gain confidence in small steps (just like we discussed in episode 217). Few companies are standing after 100 years and business leaders like Warren Buffet claim that Carnegie was more valuable than their college degrees.
The foundational Dale Carnegie Course is your best bet for gaining speaking confidence and it's offered around the globe. If you can, take the 8 or 12 week time-spaced version of the course. The intensive High Impact Presentation course is a great option for more confident and experienced speakers.
Advantages:
Time-tested and built on the principles of one of the bestselling business books of all time.
Professional business trainers who've been though hundreds of hours of development, usually over a course of years (Carnegie doesn't do 2-3 day trainer certifications, like the rest of the industry).
Fast development path with exceptional classroom support and coaching.
Disadvantages:
Investment. Carnegie is a professional, business training program and priced as such — so it may be out of reach for some individuals or very small businesses.
I've done all three of the above and I'm confident that regardless of which path(s) you take, a good-faith commitment to these will improve your speaking skills.
Becoming a more powerful presenter is a skill set that will serve you throughout your entire career, so why not get started now — or use the framework above to encourage someone you lead to start their journey to better presenting.
Monday's Show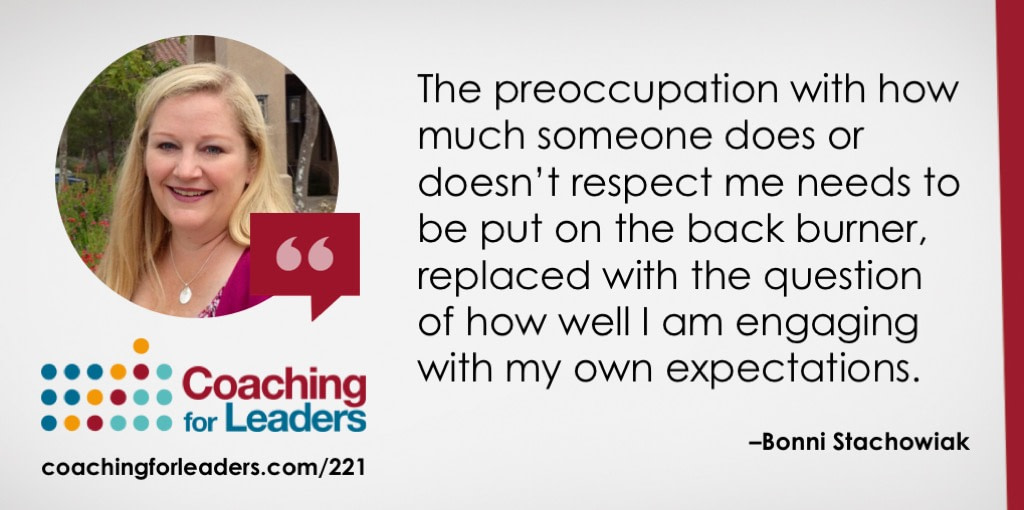 221: How to Build Your Leadership Confidence and More Community Questions
This Monday was the first of the month and Bonni and I responded to questions on leadership confidence, introversion and project management, how to handle a mistake, and what to do with changes in your MBA program.
The full audio and show notes are available on the Coaching for Leaders website. If you have a question for a future episode, submit it for consideration for the next Q&A show in early January.
Note: some of you may have noticed downtime on the Coaching for leaders website in recent days. There's a known DNS issue with a major provider on the Internet affecting us. Please accept my apologies if you've had any difficulty accessing the site — full uptime will be resolved shortly.